Travel & Tour
Regarding the photo of 'Pattipola Tourist Comfort Centre' that is being widely circulated across social media.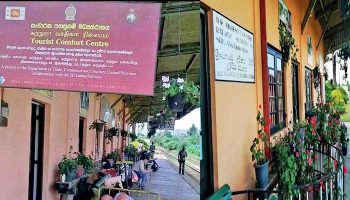 It has been brought to our attention of a photograph that has been in circulation of a tourist sleeping on a trolley at the Pattipola Railway Station. While few people tried to showcase this as a photograph which was taken recently and mentioned the "state of tourism", this indeed was a photograph taken back in 2018; and yet the incident was deemed "unfair and unfounded", by the then Tourism Minister Hon. John Amaratunga on a note he left on his facebook on the 29th March 2018 (Screenshots of the same attached herewith).
We at Sri Lanka Tourism together with the industry stakeholders collectively strive always to offer the best experience to any traveller who would visit our beautiful island.
Sri Lanka is ready and Sri Lanka is open for all!
Thus we urge the general public to inquire into the truthfulness of these incidents before circulating it across as it could be of serious harm to the efforts that we as an industry are undertaking to revive Sri Lanka Tourism post pandemic.
Tourism is a multiple stakeholder industry thus the engagement of the industry, all relevant line agencies and citizens at large are important in creating memorable experiences for our visitors. Every traveller is a guest of our country and we need to work together to ensure they have an amazing time in Sri Lanka and spread positive words across.