Top News
Functioning of Police Tourist Division for the Safety of Tourists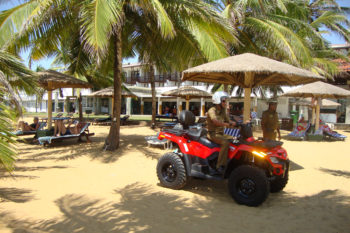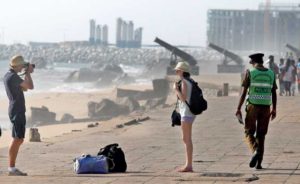 Tourism is one of the main assets that Sri Lanka can be proud of. According to preferences of most of the tourists seem to be attracted by the pristine beaches, wildlife, heritage and many other rich aspects of Sri Lanka.
In this respect the safety of the tourists is very important and in order to attend to issues related to their protection, Sri Lanka police inaugurated a special police post at No. 28, Queens street Colombo. In 1960 and later due to the growth of tourist influx it was turned into a police tourist division providing an efficient service to tourist complaints and also to minimize irregularities related to tourism.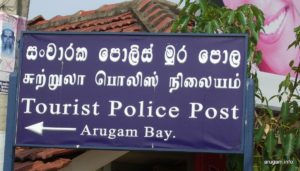 The basic vision of the Police Tourist Division is to create a hassle free, secure, safe & memorable experience to all tourists within Sri Lanka in implementing the above vision the tourist police Division's mission is:
To build up confidence for the tourists regarding their safety in Sri Lanka
To entertain tourists & their complaints courteously, record complaints and implement necessary actions in a professional manner.
Conducting surveillances and gathering information regarding the misconducts done by the tourists and monitoring the dishonest organizations linked within the tourism trade.
To associate with the tourist service providers and introducing safety measures for the tourists for their travel within Sri Lanka
Conducting awareness programs for the various sorts of the Tourist Service Providers in order to minimize issues which are being risen
For better improvement of tourism in Sri Lanka
Principle objective on this division is to provide a Tourist friendly, professional and prestigious police service. In many crucial events, usual police proceedings consume more time on getting contacts with embassies, consulates, travel agents etc.Hence keeping network access with emigration and customs for any of the matters such as tracing records, verifications on immigration details and previous custom declarations, etc are made available for the tourists.Quick access on obtaining and sending such information through internet is required in various situations such as natural disasters, crimes, accidents, etc in order to provide much healthier assistance for the tourist in case they meet with distress.
Networking with the SLTDA has already been completed and furthermore, similar facility is needed to link with the following agencies;
Airport/ Immigration & Emigration dept/ Customs/ Embassies/ Reputed tourist service providers
Training & Education for police personnel attached to the tourist police division
1. Aimed to develop knowledge and attitudes among Police officers on under mentioned aspects;
1. Orientation of foreign languages
2. Awareness of the law enforcement related to the tourism
3. Awareness of following sectors in order to minimize practical issues;
 Immigration procedures
 Existing custom procedures
 Import-Export procedures
2. Training and awareness programs are organized for the tourist service providers in order to fulfill following aspects;
3. Training and awareness programs are organized for the tourist service providers in order to fulfill following aspects;
1. To minimize frauds and deceitful acts over the service providing business
2. Ensuring quality service to the expenditure borne by the tourist
3. Enhancement of skills amongst those who engaged within the trade
Investigation & Prosecution
When above preventive measures become unsuccessful, Police Tourist Division compels to take action against those who commit offences and bring them before the law.
Depending on the nature of the complaint, it is decided whether the investigation could be handled by the PTD itself or hand over to the local Police/ Agency. In such occasions, the assistance of the PTD could be extended as a second option.
Most of the complainants who seek service from the Tourist Police are foreign tourists. Due to this reason all the complaints should be attended and inquired immediately as they do not have adequate time duration to remain in Sri Lanka. Therefore, our main goal is to provide an amicable settlement for those tourists who become victims for various harassments as they do not have much time left to stay.
Intelligence & surveillance
After the establishment of the Tourist Police Division in 2007, teams are being deployed covering the city of Colombo and other sites where tourism developed areas in order to attend surveillances in revealing unethical manners practiced by various elements in which tourists can be subjected to crimes & harassments. Beach patrols, Monitoring patrols are operated with the aspects of suppressing tourist harassments and to identify unauthorized guiding, unlawful tour operations, touts, vendors, illegal money exchanges and all other sorts of deceitful acts over the trade.
Location:  Ground Floor,
Sri Lanka Institute of Tourism & Hotel Management
No. 78, Galle Road,Colombo 03.
Tel/Fax:  +94112382209  Hotline:  +94112421451
Director
Police Tourist Division  
J.S. Weerasekara
Senior Superintendent of Police
Tel: +94112421052 Fax: +94112382209
Email: dptd@srilanka.travel
Chief Inspector of Police
Police Tourist Division   
Prabath Vidanagama
Tel: +94112421070 / +94718591895
Fax: +94112382209
Email: oicptd@srilanka.travel
An operation room is being functioned 24 hour basis in order to entertain complaints of tourists and any other involvements pertaining to tourism.
This Police Division consists of sufficient male & female officers below the rank of Senior Superintendent of Police who is the Director of this Division.
Important hints for a secure tour of Sri Lanka
There are many scams and fraudulent rackets targeting tourists. It is common for tourists to be approached by well-dressed people claiming to work for reputable hotels or tour groups, offering trips to shops or sites. To avoid being misled or conned, it is best to make arrangements with your hotel or tour operator in advance. This is also common with "tuk- tuk" drivers who offer to organize excursions, and promote specific locations or retailers.
When travelling by public transport, tuk-tuk or taxi, make note of the vehicle number, driver information, and associated company, if possible. This information is useful in the event of a problem arising. If travelling by "tuk-tuk", ensure that they have a meter, and that the meter is functioning prior to travelling with them. Be sure to check the meter before payment.
Always be vigilant and pay attention to your belongings specially wallets, passports and luggage.
Be careful when travelling in isolated areas. Refrain from walking in lonely areas, particularly after dark, or with unknown people.
Please be mindful to dress appropriately when visiting religious and cultural institutions including temples, churches, mosques and kovils.
If you have any concerns about your destination, or you think you might be in any danger, please contact the Police Tourist Division or Units on following contact numbers or dial 119 for Police assistance.
     Tourist Police Units         Contact No.
Anuradhapura               +9411-3133686
Polonnaruwa                  +9427-2223099
Kandy                              +9481-3837392
Mount Lavinia                 +9411-2738351
Sigiriya                            +9466-4930327
Hikkaduwa –Narigama     +9491-2275554
Aluthgama – Moragalla     +9434-2276049
Arugambay – Potuvil        +9411-3081044
Negombo – Eththukala    +9431-2275555
Kalukuda – Pasikuda-       +9465-2257707
Rambukkana–Pinnawala  +9471-8016340 / +9471-4052990
Courtesy: Tourist Police Division