News
SL and Australia discusses on regional interests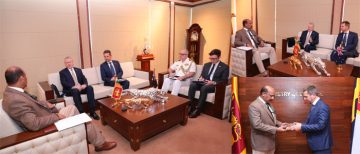 Assistant Secretary, Global Interests Branch of the Department of Defence, Australia, Tom Menadue met the Defence Secretary Gen. Kamal Gunaratne at the Defence Headquarters Complex, Sri Jayewardenepura, Kotte today (Feb 17).
The Australian High Commissioner in Sri Lanka H.E. David Holly accompanied the visiting Australian Defence Department official on his visit to the Defence Ministry.
The Sri Lankan Defence Secretary warmly received the Australian delegation on their arrival.
Regional interest including Sri Lanka's strategic location in the Indian Ocean Region, regional security and defence cooperation between the two countries were taken up during the session.
Matters of mutual interest and bilaterally importance were also discussed at the meeting.
Secretary Defence exchanged mementos with the Australian High Commissioner and the visiting senior official during the occasion.
The discussion was held in keeping with the healthcare procedures to contain the spread of COVID-19.
Military Liaison Officer of the Sri Lankan Defence Ministry Maj. Gen. Dinesh Nanayakkara, Defence Attaché of the Australian HC Capt. Ian Cane, and senior Defence Ministry officials  were present at the occasion.