News
UNDP leads disaster-resilient infrastructure workshop
'Building Disaster-Resilient Infrastructure through Enhanced Knowledge' Project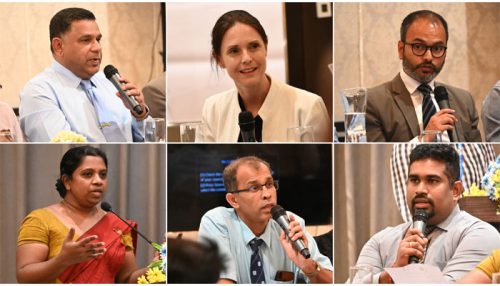 The United Nations Development Programme (UNDP) leads a workshop to build the capacity of stakeholders in addressing key challenges and gaps in disaster recovery in the irrigation sector in Sri Lanka on 1-2 March 2023.
 In recognition of the need for greater investment in disaster-resilient infrastructure planning in Asia and the Pacific, the 'Resilient Infrastructure through Enhanced Knowledge' project was launched by the UNDP in Sri Lanka and the Asian Development Bank (ADB), with grant funding from the Japan Fund for Prosperous and Resilient Asia and the Pacific, financed by the Government of Japan through ADB.
The project has worked to improve the environment for recovery by formulating a Disaster Recovery Framework (DRF), Guidelines for Recovery Planning and Post-Disaster Needs Assessment (PDNA), and Standard Operating Procedures (SOP) for the Irrigation sector, which required validation from senior officials of the stakeholder agencies to ensure a robust and comprehensive framework.
The workshop was co-organized with the Disaster Management Centre with senior officials from the National Budget Department, National Planning Department, Department of Irrigation (including nine Provincial Irrigation Departments), the Department of Agrarian Development, and Mahaweli Development.
Speaking at the briefing session, Santosh Pokharel, Unit Head – Private Sector Development, ADB, stated that, "ADB is pleased to be partnering with the Disaster Management Center and United Nations Development Programme (UNDP) in supporting Sri Lanka strengthen its capacity to undertake and lead disaster recovery and reconstruction efforts of the irrigation sector, which is critically important for Sri Lanka's continued development."
During her remarks at the briefing session, Malin Herwig, Deputy Resident Representative, UNDP in Sri Lanka, noted that, "It is crucial to have risk informed and climate-smart recovery frameworks in place to reduce risks of any future disaster events. By working together, we will be able to support government institutions to strengthen the capacity of the country to ensure that appropriate disaster-resilient measures are defined and applied at both the pre and post-disaster recovery efforts. UNDP is committed to maintaining a strong partnership, while providing technical assistance, knowledge sharing and advice in this critical area."
The workshop was an opportunity to collect feedback on the DRF using guiding questions, presentations and distributed information on DRF guidelines on recovery planning, loss and damage assessment, and the PDNA. This process ensured that key stakeholder views were considered in finalizing the DRF and PDNA, creating a robust and comprehensive strategy of disaster-resilient measures that are applied in pre-disaster preparation for recovery and post-disaster recovery efforts in Sri Lanka.