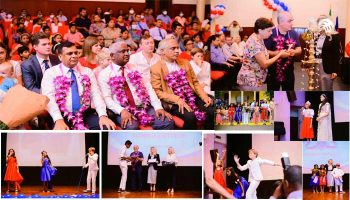 Unity Day, also called Day of People's Unity or National Unity Day; is a national holiday in Russia held on 4 November. It commemorates the popular uprising which expelled Polish–Lithuanian occupation forces from Moscow by a militia from Nizhny Novgorod in November 1612, and more generally the end of the Time of Troubles and turning point of the Polish-Russian War (1605–1618).
To mark this day, Russians lay flowers to pay respect at memorials of national heroes, like Kuzma Minin and Dmitry Pozharsky, who, staged a populist rebellion to liberate Moscow from foreign invaders on November 4th, 1612.
National Unity Day of Russia was celebrated in Sri Lanka on the 4th of November at the Russian House in Colombo with the honour of the presence of the Ambassador Designated for the Russian Federation in Sri Lanka and Maldives H.E Nevan Dzhagaryan along with a few other distinguished guests including the First Secretary of the Embassy of the Russian Federation and Director of the Russian House in Colombo, Madam Maria L. Popova along with Hon. M. T. M Iqbal, Deputy Mayor of Colombo, Mr Somarathne Vidanapathirana, Permanent Secretary to the Ministry of Buddhasasana, Religious and Cultural Affairs, Dr. Saman Weerasinghe, Former Sri Lankan Ambassador in Russia, General Secretary of the Sri Lanka Russia Friendship Society, Mrs. Waruni Gagabadaarachi, Chief Librarian of the Colombo Public Library, Dr. Kumar Wickramasinghe, President of the Association of Sri Lankan Graduates from Socialist Countries, Director of the National Hospital of Sri Lanka, Mr. Dammika Mendis, Secretary of the Association of Sri Lankan Graduates from Socialist Countries, Mr. Buddhapriya Ramanayake, Chief Executive Officer of the Russian House in Colombo and Mrs. Natalia Kulishenko, Senior Officer of the Russian House in Colombo. Additionally, a number of representatives from the Russian Embassy also graced the occasion on this special day.
The occasion was highlighted by the incredible speeches and performances by the students from the Russian language school, who recited difficult but lovely Russian poems. The event also included awarding prizes to the winners of the previously held video designing competitions and art competitions held in commemoration of National Unity Day. The competitions encompassed children of the Russian Embassy officials and the Colombo Public Library kids.
The evening was concluded on a high note with an amazing Russian song called "We are Wishing Happiness". Following the conclusion of the proceedings, the children were invited to join the special Magic Show and Face painting counter which was organized by the Russian House. All guests were also invited to enjoy the inhouse prepared Russian food which included Olivier Salat and Borscht soup, two of the oldest food items originated in Russia. Further, the event's mere objective, which was to enhance the guest's knowledge of this distinctive Russian holiday, was successfully accomplished.