News
Chanting of 'Jaya Piritha' concludes with Alms Giving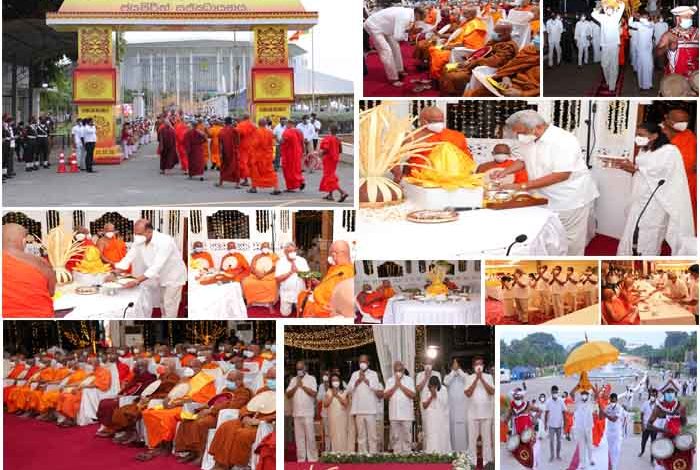 The chanting of Jaya Pirith presided over by Ven. Maha Sangha including Maha Nayaka and Anu Nayaka theros on Wednesday evening (26), to invoke blessings on the country, its people, fallen war heroes and differently-able war veterans and to get the country rid of current pandemic spread came to an end, following an alms-giving at the Bandaranaike Memorial International Conference Hall (BMICH) today morning (27).
The ritual alms-giving associated with the Jaya Piritha took place this morning and the offering of alms to the Ven. Maha Sangha was held under the patronage of the President Gotabaya Rajapaksa.
The ceremony was held successfully on the instructions of the President and under the directives of Defence Secretary Gen. Kamal Gunaratne.
President Rajapaksa, First Lady Ioma Rajapaksa, Government Ministers, Parliamentarians, Ministry Secretaries, Acting Chief of Defence Staff and Army Commander, Navy and Air Force Commanders, Inspector General of Police, Head of Departments, high ranking state officials and a gathering of distinguished invitees took part in this meritorious act to receive religious blessings.
The annual Jaya Pirith chanting ceremony commenced under a notion of former Defence Secretary and current President Gotabaya Rajapaksa during the year 2008 to invoke blessings on the tri-forces those were marching forward to defeat the ruthless terrorism from the motherland.
Ven. Maha Sanga also recalled that the religious blessings of the Jaya Piritha have given immense courage to the veteran war heroes who were at the battle front then, during the Anushasana sernon.
Family members of fallen war heroes and differently-able veterans were also present at the event which invoked blessings on them and the tri-forces.
The entire religious proceedings were held conforming to the stipulated healthcare guidelines in order to contain the spread of the pandemic.
The President's Secretariat, Ministry of Home Affairs, Ministry of Public Security, Ministry of Buddhasasana, Religious and Cultural Affairs, Office of the Chief of Defence Staff, Tri-Forces, Sri Lanka Police and Civil Security Department had extend their supportive hands for the successful accomplishment of this meritorious act.