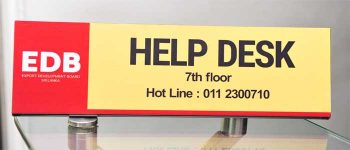 The Export Development Board has taken an initiative to enhance the efficiency and effectiveness of EDB Services delivering satisfaction to all customers.
The Exporters, Entrepreneurs and public alike will be assisted through the Help Desk on support services and necessary guidance on other related Institutions.
The Public can now contact the Help Desk on 0112300710 during working days from 8.30 a.m. to 4.15 p.m. or email helpdesk@edb.gov.lk to request assistance.