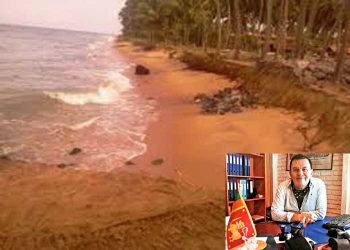 The Coast Conservation and Coastal Resource Management Department will now be able to push ahead with the stalled offshore breakwater construction at Marawila, thanks to a German tourism promoter, who has agreed to fund the project.
The construction of the offshore breakwater barrier on a section of the Marawila beach could not be completed by the Coast Conservation Department due to lack of funds in 2018. The gap left by the unfinished work resulted in sea erosion posing a potent threat to the property and guests of a leading tourist hotel on the Marawila coastline.
"We are faced with a perilous situation as the violent waves hurl rocks and other particles onto the restaurant of the hotel during stormy weather", says Dr. Dietmar Doering, Chairman of Aquarius Resorts.
Even during the recent inclement weather, there were rocks, some as heavy as seven kilos, which landed near the hotel's restaurant as the sea turned turbulent, he recalled. "Our guests were terrified".
Aquarius Resorts is popular amongst Europeans, mostly Germans. "They come to enjoy the sun and sand, but when they feel unsafe due to flying rocks triggered by the thrashing waves, it's difficult to convince them to come again on holiday to Sri Lanka", he complained.
Doering, an investor and sports tourism promoter, who has lived in Sri Lanka for 30 plus years, met with Director-General, Coast Conservation, B. K. Prabath Chandrakeerthi, to evolve a solution to the issue, which reflected adversely on his business.
As the Coast Conservation Department lacked necessary funds to complete the construction of the offshore barrier, Doering assured that he will personally finance the stalled project as his hotel was badly hit during stormy weather.
"As the department has no funds to undertake the task, we agreed to extend technical support to complete the project, which the German hotelier pledged to fund", Chandrakeerthi told The Sunday Island.
He said that the lion's share of the department's allocation was injected to arrest sea erosion in the Thoduwawa and Marawila coastline.
As for the construction of the offshore breakwater at Marawila, only a part could not be completed due to want of funds. With Aquarius Resorts situated within the incompleted area, the property, as complained by the property's owner, continues to be affected due to sea erosion, the Director-General explained.
"As the owner of the hotel has pledged to fund the completion of the offshore breakwater, we will provide the necessary technical support and get on with the job soon", Chandrakeerthi assured.
He said the threat of sea erosion in Marawila has been compounded by illegal sand mining in Ma-Oya. There is inadequate sand on the beach as a result.