Top News
"Green Buildings" To Conserve Resources and Minimize Pollution.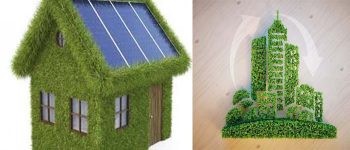 Construction of buildings cause many negative impacts to the environment. Therefore it is important to take mitigatory measures to minimize the environmental impacts. Some of the negative impacts are clearing of the land for construction causing impacts to the wildlife, soil erosion due to excavations, green house gas emissions due to material transportation to the site from a long distance, waste generation, contamination of the environment with toxic chemicals and paints, water pollution due to construction activities, noise and vibrations, visual pollution during the construction period.
Construction sites are also well known for mosquito breeding sites causing health issues. Environment pollution takes place not only during construction but also during functioning, renovation or demolition of buildings. Those are generation of waste, emission of gases due to power supply and other activities, generation of construction waste, toxic material etc.
These impacts can get aggravated if unsuitable lands are selected for construction, not considering about the wild life during clearing the land or resource efficiency. Therefore green building concept has evolved to minimize these impacts and safeguard the environment and human health by minimizing the stress on the environment in the entire lifecycle of the building construction up to demolition of the building.
What is a Green Buidling?
A building in which the entire life cycle, that is planning, designing, construction, operation, maintenance, renovation and demolition is carried out in an environmental responsible manner. In addition green buildings consider resource efficiency in its structure and processes.
Features of green buildings
In general, some of the features of Green buildings are use of renewable energy such as solar power, use of water and energy efficient equipment, reuse and recycling of treated waste water, use of environmental friendly building materials like non toxic paints, non use of ozone layer depleting substances in air conditioning, obtaining natural light in to the building as much as possible, selection of brown or polluted, less productive lands for construction activities, planting non invasive trees that provide more ecosystem  services, harvested rain water used in gardening and toilet flushing, inclusion of appropriate waste management infra-structure in the building and practice waste management throughout the life cycle.
Benefits of Green Buildings
Green buildings have low operational and maintenance costs as they use resources efficiently and conserve energy and water. Green buildings enhance indoor air quality. In addition it provides a healthy environment and reduces strain on local resources through material efficiency. It helps in minimizing pollution during its life cycle.
Green Building Guidelines and Rating system for Government Constructions:
Green building guidelines and rating system for government and semi government buildings were developed by the " Punarudaya" National Programme on Environmental Conservation of the Presidential Secretariat, Ministry of Mahaweli Development and Environment, Urban Development Authority under Ministry of Megapolis and Western Development in collaboration with all other relevant stakeholders in the year 2017.
All government and semi government buildings constructed from January 2017 need to obtain the "Blue Green Sri Lanka" green building rating system certification. The Urban Development Authority, being appointed as the certification agency, will provide guidelines as well as certification for the buildings. This system is expected to be implemented in the private sector buildings in future.
Green building guidelines and rating system is based on the following:
Energy efficiency
Sustainable site planning and management
Building materials and resources
Quality of internal environment of the building
Water efficiency
Green innovations
Socio cultural compatibility.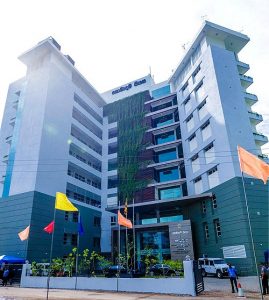 The New Building of the Ministry of Mahaweli Development and Environment " Sobadam Piyasa" was opened on 14th September 2017 , and the Blue Green Sri Lanka National Green Building Rating System Gold Award was awarded to this building by the Urban Development Authority (UDA) and the Green Building Gold Award was awarded by the Green Building Council of Sri Lanka (GBCSL).
The Building was designed by the Central Engineering Consultancy Bureau (CECB) and constructed by the Central Engineering Services (Pvt) Ltd. (CESL).
History of Green Buildings in Sri Lanka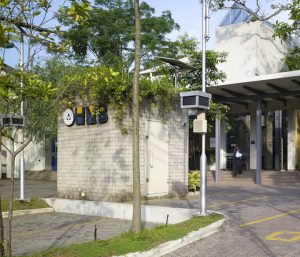 The Hatton National Bank – Nittambuwa Branch was the first Green Bank Building constructed and completed in 2012, which has obtained LEEDs (Leadership in Energy and Environmental Design) certification from the Green Building Council of United States. This building is expected to save energy up to 30% and water up to 70%, which makes it cost effective.
The certifications available for green buildings
LEED (Leadership in Energy and Environmental Design) is an internationally recognized green building certification system, developed by the Green Building council (USGBC). of United States.
There are many more LEED certified green buildings in Sri Lanka. Some of them are  MAS Fabric Park, Thulhiriya, Nanotechnology Centre of Excellence, Vocational Education Center,  Ahangama, CKT Apparel ( Pvt) Ltd, Yatiyana, Agalawatta, Ulagalla Walawwa Resort , Anuradhapura, Dimo – Mercedes Benz Centre , Wattala, Jay Lay Childrenswear Lanka ( Pvt) Ltd, Awissawella, Mudu Katuwa, Marawila, HNB regional office, Jaffna, Brandix Essentials , Koggala, Rain Forest Ecolodge, Colombo, Beira Enviro Solutions, Horana etc. Depending on their standards these buildings are Platinum, Gold or Silver certified.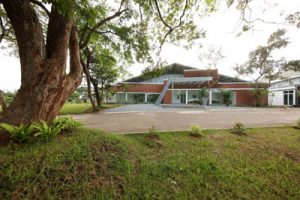 Hirdaramani – Mullaitivu factory – LEEDs Platinum award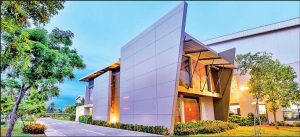 Brandix – Batticaloa factory – LEEDs – Paltinum award
 Green Building Council of Sri Lanka
The Green Building Council of Sri Lanka (GBCSL) is an authority implementing green concept and green building practices. Green Building Council has developed a Green Building Rating System ( GREENSL) to address Sri Lankan requirement. Accordingly rating is based on Management (MN), Sustainable sites(SS), Water efficiency(WE),Energy & atmosphere (EA), Material & Resources (MR),Indoor environment quality (EQ),Innovation & design process (ID) and Social & cultural awareness(SC).
Some of the GREENSL certified buildings are
Hatton National Bank, Kalmunai- Platinum
World Trade Centre Colombo  01 – Gold
Central Engineering Consultancy Bureau- Gold
Department of National Archives- Silver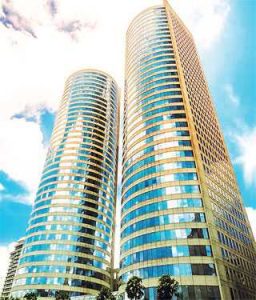 World Trade Center – Colombo – Gold award
In addition Green Building Council provides Training for professionals on Green Building Concept.
Therefore it is very important to practice green building concept to conserve resources and  minimize pollution in the construction sector and save the environment and human health.
Sujeewa Fernando Assistant Director
Environment Pollution Control and Chemicals Management Division
Ministry of Mahaweli Development and Environment.