Business & Finance
"Instructor Capacity Development Program on Oil Spill Response held at Sri Lanka Coast Guard"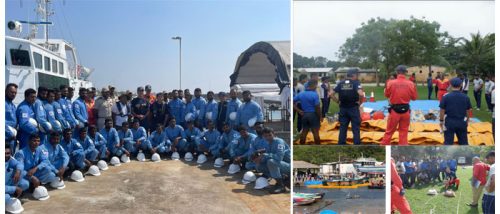 Recognizing the importance of cooperation in maritime sector, Japan International Cooperation Agency (JICA) has implemented a technical cooperation project with Sri Lanka Coast Guard (SLCG) since 2014 to transfer the latest skills on the management of oil spill incident.
From 2nd February 2023, a team of five Japanese experts including two officials from Mobile Cooperation Team of Japan Coast Guard (JCG) who are specialized in capacity development, two officers from National Strike Team Station in Yokohama who are in charge of oil spill management in a coastal area in Japan, and one officer from Marine Environment Protection & Disaster prevention Division of JCG, was dispatched to SLCG to conduct the oil spill response training.
JCG and SLCG had the onshore training in Kirinda from 2nd to 10th February, and offshore training in Dikovita from 13th to 17th February. Thirty-four SLCG officers participated in this training program. In the offshore training, the fast patrol vessels granted by JICA in 2018 specifically designed for SLCG were used. Since the inception of this series of technical cooperation by JICA in 2014, more than 200 SLCG officers have joined JICA's training program. Further capacity development training is planned in Japan this year.
It is expected that SLCG will play a more important role in maritime safety and security around Sri Lanka maintaining a safer sea for all.
For more Information:
Sri Lanka Coast Guard Website – SLCG – News (coastguard.gov.lk)