Business & Finance
Top News
16 Key Private Sector Leaders come together to support Food Security efforts
UNDP and Brandix encourage more Private Sector engagement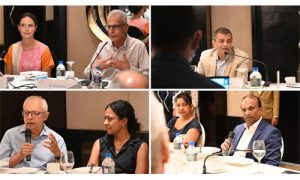 The private sector in Sri Lanka has historically played a key role in providing support to humanitarian efforts; rebuilding from the devastating effects of the Indian Ocean Tsunami, Seasonal floods, tackling the COVID-19 pandemic, and now, supporting socio-economic recovery for the most vulnerable communities in the country. The United Nations Development Programme (UNDP) in Sri Lanka recently launched a Facility to enable interested private sector organizations to partner and contribute towards procurement of urgent medical supplies and address food security needs with Hemas Holdings PLC, Dilmah Ceylon Tea Company, Brandix Apparel Limited and Daraz Sri Lanka coming on board to pledge their commitment.
Building on this momentum and to encourage further collaboratiom, a meeting was held this morning with the engagement of high-level representatives from the Private Sector including; Mr. Mahesh Amalean, Co-founder and Chairman, MAS Holdings; Mr. Ashok Pathirage, Chairman/Managing Director, Softlogic Holdings PLC; Ms. Kasthuri Chellarajah Wilson, Executive Director / Group CEO, Hemas Holdings PLC; Mr. Mahesh Hirdaramani, Chairman, Hirdaramani Group of Companies; Ms. Shea Wickramasinghe, Group Managing Director, Ceylon Biscuits Limited; Mr. Rathika de Silva, Executive Director, United Nations Global Compact Network Sri Lanka; Mr. Ravin Basnayake, Managing Director – Citi Country Officer / Country Head, Citi Sri Lanka; Mr. Tyeab Akbarally, Managing Director, Akbar Brothers; Mr. Dilanka Jinadasa, Group CEO, Hela Apparel Holdings; Mr. Mark Surgenor, CEO, HSBC Sri Lanka; Mr. Fazly Marikar, Vice President – Strategy Management and Sustainability, Amana Bank PLC; Mr. Bingumal Thewarathanthri, CEO Sri Lanka / Head of CCIB Client Coverage, Standard Chartered Bank; Mr. Rakhil Fernando, Managing Director, Daraz (Alibaba Group); Ms. Nadija Tambiah, President, Executive Vice President, Head – Legal & Secretarial, John Keells Holdings PLC; Mr. Naresha Supramaniam, Senior Vice President & Head of Asia Pacific, Virtusa; and Mr. Kishore D. Reddy, Managing Director / CEO, Platinum Realty Investments.
Co-chaired by Mr. Ashroff Omar, Group CEO, Brandix Apparel Limited, the meeting provided a platform for key private sector partners to share notes on the present situation pertaining to food security and crisis support-related engagements, while encouraging collaboration with the Facility, to rally together to support Sri Lanka during this critical time. The meeting was co-chaired by Ms. Malin Herwig, Officer-in-Charge, UNDP in Sri Lanka. The discussion also saw the engagement of Mr. Vimlendra Sharan, Representative for Sri Lanka & Maldives, Food and Agriculture Organization (FAO) and Fadhil Bakeer Markar, Policy Specialist and Team Leader – Policy and Engagement Team, UNDP.