News
Italian Ambassador meets Defence Secretary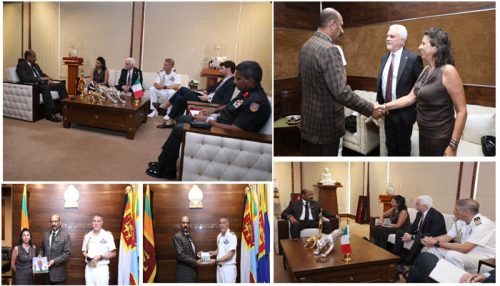 Her Excellency Rita Giuliana Mannella, Ambassador of Italy to Sri Lanka and Maldives, met the Sri Lankan Defence Secretary Gen. Kamal Gunaratne today (Mar 15) at the Defence Ministry in Sri Jayawardenepura Kotte.
The delegation led by the Italian Ambassador was accorded a warm welcome on arrival at the Defence Ministry and subsequently had a cordial discussion with the Defence Secretary.
Matters of defence cooperation and mutual relevance to both countries were discussed during the session between Gen. Gunaratne and Ambassador Mannella. The Italian envoy also expressed her appreciation of the natural beauty of Sri Lanka and its tourist attractions.
During the meeting, the Italian Defence Attaché Captain Fabio Cima and the Defence Secretary also discussed the means of enhancing military training exchange during their interaction.
Souvenirs were exchanged between the high officials to mark the event.
Military Liaisons Officer of the Ministry of Defence Maj. Gen. Dinesh Nanayakkara was also present at the occasion.