Travel & Tour
Journalists and bloggers across the globe join hands together to promote Sri Lanka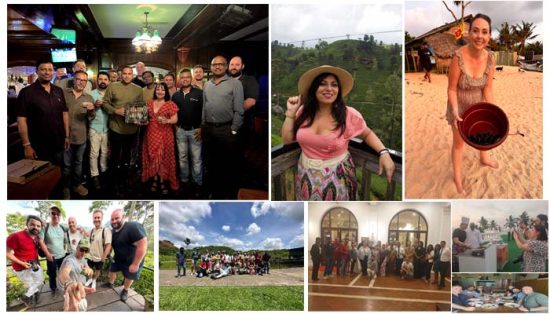 Sri Lanka Tourism welcomed, by far the biggest international travel influencers and journalists group arrived in 2023 to promote the destination. Representing the key source markets for Sri Lanka, this delegation arrived from the United Kingdom, France, Russia, India, Italy, Netherlands, Australia, Spain, USA, and Indonesia. Overall, the group of travel influencers and media carried a global audience of 5.5 million via mainstream social media platforms (Instagram, Facebook, Twitter, Tik Tok, etc.), travel news websites, and traditional media publications. The total advertising value expected to be gained from this earned media promotion will be over LKR 71 million.
Prior to starting the 10-day Destination Promotional Press Trip Series covering some of the most exciting tourism highlights on the island, this media delegation was warmly welcomed by the Sri Lanka Tourism Promotion Bureau, followed by a reception organized by The Mount Lavinia Hotel to mark their arrival, under the patronage of Hon. Minister of Tourism, Harin Fernando, Chairman, Sri Lanka Tourism Promotion Bureau, Chalaka Gajabahu, and their SLTPB officials. The tour kicked off on 21st March to 29th March 2023 covering Colombo, Seethawaka, Kandy, Nuwara Eliya, Ella, Udawalawa, Galle, and Kosgoda. This timely important destination promotional project was organized by the SLTPB, under the Visiting Journalist & Blogger Programs 2023 (VJP/VBP-2023) with the focus to promote the island as The Ideal South Asian Tropical Holidaymaker for 2023. During this destination, a promotional Familiarization Tour, current situational updates about Sri Lankan economic recovery, and progress made within the tourism industry were also given to the media delegation in order to share with their millions of travel audiences.
With over 5.5 million combined global digital travel audience, this media delegation had the opportunity of exploring both popular and emerging tourism attractions in Sri Lanka including, Seethawaka Wet Zone Botanical Garden, Hanthana Mountain Hike, Ravana Zipliner – Ella, Highland Train Rides, Visit to Udawalawa Elephant Transit Home and National Park, Turtle Hatcheries in Kosgoda, etc.   Through exploring these areas, they were able to experience the diverse local cultures, gastronomy, heritage, wildlife, and scenic beauty that Sri Lanka has to offer.
Some of their highlighted experiences included taking part in a Cooking demonstration done by world-renowned chef Pubilis Silva at The Mount Lavinia Hotel, holding Sea turtles at the Sheraton Kosgoda Turtle Beach Resort, hiking at the Hantana Mountain range , visit to Elephant Transit Home  Udawalawe, and enjoying the panoramic view etc. Several Tourism Industry stakeholders supported in making this national tourism industry promotional initiative a success.  These included Mount Lavinia Hotel , Cinnamon Hotels & Resorts, Sheraton Kosgoda Turtle Beach Resort , Walkers Tours Sri Lanka, Ebert Silva Holidays , and other tourism industry stakeholders.
Several members of the group expressed their views on Sri Lanka and what they thought of its amazing holiday opportunities. Aleksei Mavlonazarov, is a Russian photographer and a famous Social Media Influencer. He has more than 400,000 followers on his Instagram. He expressed his opinion on paradise island as thus. ''Even before coming to Sri Lanka, I had heard very good things about the beauty of the country as well as the hospitality of Sri Lankans. After coming to Sri Lanka, my impression of this country increased even more. Sri Lanka is a very beautiful and clean country. I have visited many countries in Asia. But in my personal opinion, there is no other country in Asia as suitable and attractive to visit as Sri Lanka.''  Anna Pernese, a well-known Italian travel influencer and travel journalist, also commented. She has more than 50,000 readers for her blog posts and more than two lakh people on Pinterest and Instagram accounts. This is what she said about her visit to Sri Lanka.''This is my first visit to Sri Lanka. Many people in some parts of Italy know about Sri Lanka. When I came to Sri Lanka, I realized how beautiful this country is. People are very nice here and Friendly. '' David Brett, a British citizen, also expressed his views."Sri Lanka has all the necessary qualifications to become the number one tourist destination in the world. I am ready to provide the necessary publicity through my social media.'' David Rocoberti, who came from Spain, is also someone who can make a big impact through social media. His Instagram account has more than 400,000 followers covering many from Europe, UK and USA.
David said here that the number of tourists coming to Sri Lanka will increase greatly in the future.
''The Tourism Promotion Bureau of Sri Lanka is currently launching a massive campaign in collaboration with leading social media people from all over the world. According to its success, it is certain that the tourism industry in Sri Lanka will reach the highest position in the region in the future'', he said.
Catherine Banks, who came from USA, is a travel journalist who can have a great impact not only in the American region but also in Europe through social media.
She mentioned that Sri Lanka is a very valuable island in terms of natural beauty as well as history and she has planned to do many social media creations based on these facts.
Carmen Janner, who came from Australia, also mentioned that due to the beauty of Sri Lanka and the hospitality of Sri Lankans, Sri Lanka will soon become a country at the top of the world in the field of tourism. Jennings further said:
"Recently, due to various crises including the Corona crisis, Sri Lanka's tourism industry has faced some unfortunate times.
 This situation is not only for Sri Lanka, it has affected many countries in the world. But I believe that Sri Lanka will be able to get rid of this situation before other countries. I am confident that Sri Lanka's economy will soon improve, especially due to the development of Sri Lanka's tourism industry."     
Through these comments and viewpoints, it clearly highlights how Sri Lanka is seen through the eyes of those who experienced the island destination. By promoting Sri Lanka as the ideal tropical holiday maker for 2023, this initiative will not only boost the Tourism industry but also highlight Sri Lanka as a beautiful island Destination that offers every dream travel opportunity that one could think of. Most importantly, the expected travel content, articles, and social media posts will focus on providing the latest travel update about Sri Lanka as a safer holiday destination to travel to within 2023.