Business & Finance
News
MV HR SARERA becomes first inaugural caller at the Jaya Container Terminal after Covid-19 pandemic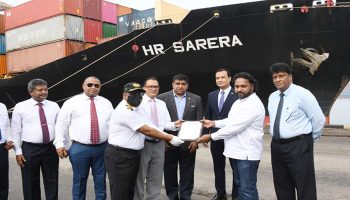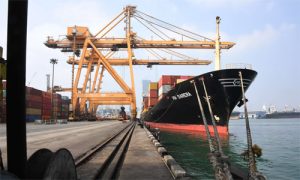 With a greater focus to provide flexible feeder connections in Colombo, HR Lines, Bangladesh feeder vessel operator, who introduced their feeder service, CCE – Chattogram Colombo Express  in April 2021, has  dedicated one of their Chattogram loops to call at JCT effective MV HR SARERA Voyage 0042N called at the Jaya Container Terminal (JCT) of the Port of Colombo (POC)  on 10.03.2022. The occasion was graced by the Bangladesh High Commissioner to Sri Lanka, H. E. Mr. Tareq Md Ariful Islam.
MV HR SARERA is the first inaugural caller at the JCT of SLPA after Covid -19 pandemic. To mark the inaugural call of the vessel  plaque exchanges were  held at the JCT of SLPA. Clarion Shipping (Pvt) Ltd., a subsidiary of Hayleys Advantis Group is  the local agent for the vessel.
HR Lines stared the Colombo – Chattogram feeder service with 02 vessels, once a week sailing and eventually will upgrade  it to twice weekly with adding 02 more vessels by October 2022. Being one of the prominent feeder operators, within a year, HR Lines has secured a total market share of about 35% of this trade lane. HR Line is a part of diversified group Karnaphuli Bangladesh and is determined to enhance their presence in Colombo with further developments.
Expressing views at the occasion, Chairman of SLPA Dr.Prasantha Jayamanna said that during the discussions held with the Bangladesh High Commissioner to Sri Lanka,  it was apparent that Bangladesh was immensely supportive of improving mutually beneficial relationships between the two countries and also for working together to bring in more practical and workable business solutions in policy decision levels towards enhancing volumes  at  the JCT and POC. He also thanked the Hayleys Advantis Group for having trust on the JCT to have the new initiative and for its continuity.
Speaking at the occasion,  Bangladesh High Commissioner to Sri Lanka, H. E. Mr. Tareq Md Ariful Islam said that shipping connectivity was one of the most important areas in developing bilateral relations between the two countries. He also thanked the JCT and the Port of Colombo for the improved efficiency in operations and wished for a long lasting relationship that would open more business avenues in maritime operations  between Sri Lanka and Bangladesh.