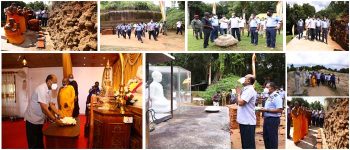 'Neelagiri Maha Seya' restoration inaugurated
The 'Neelagiri Maha Seya' restoration process commenced at the historical Neelagiri Temple premises on Jan 16th  under the auspices of Defence Secretary and Chairperson of 'Archaeological Heritage Management Presidential Task Force' (PTF) for Eastern Province, Gen. Kamal Gunaratne.
Symbolizing the restoration process, the first brick was placed with the blessings of Lahugala Magul Maha Vihara Chief Prelate Ven. Indigaswelle Pungnasara thero amidst religious services being presided over by the Chief Prelate of Panama Bodhi Rukkharama Temple Ven. Panama Chandrarathana Nayaka Thero.
Addressing the media, the Defence Secretary said "This is a sacred religious site from where omniscient sacred relics called 'Neelagiri Relics' were recovered during archaeological excavations", highlighting the necessity of restoration of this stupa to its former glory.
In the same note he stated that all 'Neelagiri Relics' will be deposited in the stupa during the process.
Stating about the funds for this noble cause, he said no state funds would be utilised and it is expected to generate funds through contributions while further adding that "Neelagiri Trust Fund" will be formed following a Cabinet approval for this purpose.
Under the directives of the Defence Secretary, Sri Lanka Air Force (SLAF) undertook the restoration of Neelagiri Seya located in Lahugala forest reserve.
The stupa restoration process will be in progress under the guidance of Magul Maha Vihara Chief Prelate with the instructions of the Department of Archaeology while preserving its ancient value and former glory.
Neelagiri Stupa is considered as the largest Buddhist Stupa in the Eastern Province and this religious site was unattended and abandoned for over three decades due to the clutches of terrorists and their activities.
Annals say that the history of the sacred religious site situated in the Lahugala forest reserve dates back to 3rd Century BC, and the site consists of a large number of artefacts including relics, remnants of small stupa and inscriptions.
A memento was presented to the Defence Secretary to mark the commencement of the restoration process by SLAF Chief Air Marshal Sudarshana Pathirana during the occasion.
Venerable Maha Sanga including the Chief Prelate of Na Uyana Monastery Angulgamuwe Ariyananda and Lahugala Sumanasara thero, regional senior military officers, regional state officials, Defence Ministry staffers and a large gathering of devotees were present at the event.
Afterwards Gen. Gunaratne also paid homage to Muhudu Maha Vihara Chief Incumbent and Eastern Province Sanganayaka Ven. Warakapola Indrasiri thero at the Muhudu Maha Vihara premises. Public Security Ministry Secretary Maj. Gen. Jagath Alwis (Retd) and Navy Commander Vice Admiral Nishantha Ulugetenne accompanied the visiting high official on his arrival to Muhudu Maha Vihara premises.