Travel & Tour
New Director General of Civil Aviation & CEO appointed for the Civil Aviation Authority of Sri Lanka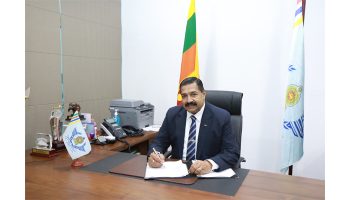 A veteran and versatile in the field of aviation; P. A. Jayakantha has been appointed as the new Director General of Civil Aviation and Chief Executive Officer of the Civil Aviation Authority of Sri Lanka (CAASL), this appointment was made consequent to a decision by the Cabinet of Ministers with the concurrence of the President, at its meeting held on 1st August'22.
Mr. Jayakantha, was the Additional Director General Civil Aviation since 2020, when he was appointed to the highest position at CAASL.  He assumed duties in the new post on 05th August'2022.
The CAASL comes under the supervision of Minister in Charge of the subject of civil aviation, is the statutory body that regulates the civil aviation within its territory and air space above it, in meeting with the obligations as a contracting state to the International Civil Aviation Convention 1944, commonly known as the Chicago Convention thus ensuring safe and secure civil aviation activities in Sri Lanka. At present 193 States signatory to the Convention
Mr. P. A. Jayakantha began his professional career as a Commissioned Officer in the Sri Lanka Air Force (SLAF) and then moved to the Airline Industry as a Management Officer with then AirLanka Ltd., the national carrier.  He joined the civil aviation inspectorate at the Civil Aviation Authority in its Aviation Regulation Division and held the positions of Director Aviation Security and the Deputy Director General, prior to his appointment as the Additional Director General in the year 2020.
He is also an ICAO Accredited Auditor for the ICAO Universal Security Audit Program and serves as a member of its Audit Team, conducting state audits in foreign countries since 2010. He is the first and only international Auditor in Civil Aviation in Sri Lanka.
In his academic qualifications, he holds Bachelor of Arts Degree in Economics (Special) at the University of Colombo and Master Degree in Economics, University of Kelaniya.
He was a student in D S Senanayake Central College, Mirigama and serves as a member of its Alumni.  He is also a Justice of Peace (JP) for the whole island, appointed by the Ministry of Justice. Married to Anoma Jayawardana, Government School Teacher and blessed with 03 sons in the family.