News
New Pakistan's HC held discussions with Defence Secretary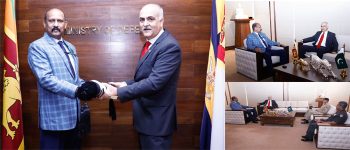 The newly appointed Pakistan High Commissioner to Sri Lanka, His Excellency Major General (Retd) Umar Farooq Burki paid a courtesy call on the Defence Secretary Gen. Kamal Gunaratne at the Defence Ministry, today (February 11).
Following a warm reception, Sri Lankan Defence Secretary Gen. Gunaratne held cordial discussions with the new High Commissioner Maj. Gen. Burki at his office.
Matters of bilateral importance and mutual relevance were also taken up at the session.
During the cordial discussion Gen. Gunaratne conveyed his best wishes to the newly appointed High Commissioner and pledged his fullest corporation for future endeavours.
Maj. Gen. Burki presented credentials to His Excellency President of Sri Lanka Gotabaya Rajapaksa, on Feb 1, 2022 at the President's House, Colombo 01.
Defence Secretary and Pakistan's High Commissioner exchanged mementos to symbolize the first official meeting and Defence Secretary also presented few books authored by him relating to Sri Lankan military history, as a gesture of goodwill.
The bilateral discussion was held in keeping with the healthcare procedures to contain the spread of COVID-19.
Military Liaison Officer of the Defence Ministry Maj. Gen. Dinesh Nanayakkara and Defence Adviser to the Pakistan High Commission in Sri Lanka, Col. Muhammad Safdar Khan were also present.