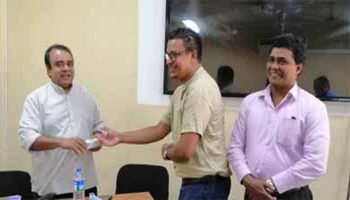 Organized by, Students of Masters in Tourism Economics and Hospitality Management – 2020, Department of Economics, University of Colombo.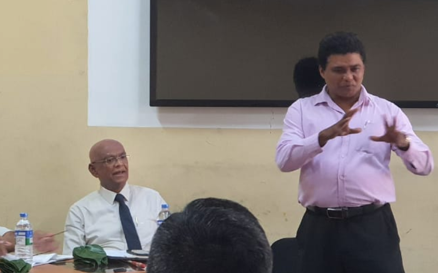 The "Dialogue with Legends of Sri Lanka Tourism" is organized by the Students of Masters in Tourism Economics and Hospitality Management of the Tourism study Program to share knowledge of the best practices for global competitiveness, under the leadership of Professor Suranga Silva.
To host the first discussion, we invited Mr. Gemunu Goonewardene, an expertin the Hospitality Industry with 40 plus years of experience, demonstrating an entrepreneurial vision in conceptualizing and delivering leading solutions. The University of Colombo and the Dialogue with Legendsof Sri Lanka Tourism Conversations had the opportunity to invite and receive Mr. Sunimal Senanayake as the resource person for its First Episode to share his experience on global best practices, that he believes have helped him to successfully lead one of the largest Resort Hotel Chains in Sri Lanka and Maldives.
Mr. Sunimal Senanayake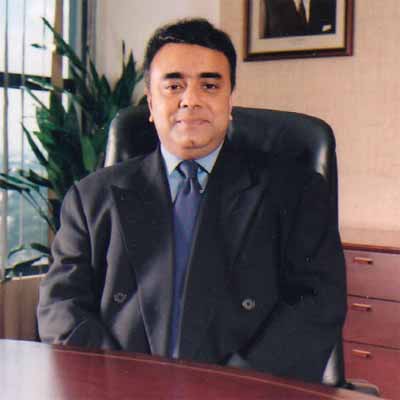 Mr. Sunimal Senanayake has over 35 years of experience in Sri Lanka's Corporate Sector. He was an Executive Vice President of the John Keells Group and the Head of the Leisure Resorts Sector, overlooking 11 Cinnamon Resorts in Sri Lanka and the Maldives including the Hotel Management Company. This exceptional industry professional has served in many capacities, such as the Managing Director of Walkers Tours Limited, one of the largest destination management companies in the Island, Head of Sales & Marketing of Aitken Spence Hotels, Head of Human Resources and Head of Business Development and Expansion of the Leisure Group of John Keells Holdings PLC.
He was a member of the Group Operating Committee at JKH and a Director of several Subsidiary Companies including John Keells Hotels PLC and Cinnamon Hotel Managements Ltd. He has served in many positions in various Associations, such as President of the Sri Lanka Association of Inbound Tour Operators (SLAITO), the Chairman of the Advisory Board of the Sri Lanka Institute of Tourism and Hotel Management and a Member of the Hotels Classification Committee. He is now a Management Consultant specializing in working with teams to achieve operational Excellence through creating suitable Operating Models.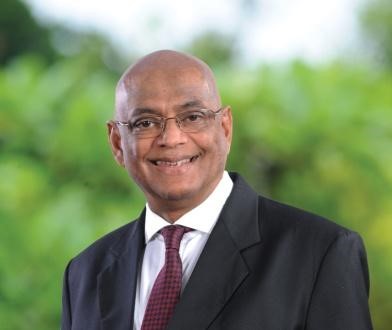 Tell us about how you started your career?
Back in the late seventies, I joined The John Keells Group as a Management Trainee. I was indeed fortunate to be interviewed and recruited by Mr. Ken Balendra, who was the Managing Director of Walkers Tours at that time. Mr. Balendra then became the first Sri Lankan Chairman of the John Keells Group and was instrumental in steering the company to become one of the largest conglomerates in the Country. I was so privileged to work under someone like him. At the interview he asked me, "What is it that you wantbe? Say in 10 to 15 years?". I answered, "Hopefully to lead this Company, Sir". 
He said "I like your confidence" and I was recruited.  I was fortunate that I was able to achieve my vision when I was appointed as the Managing Director of Walkers Tours in the early Nineties.
Tell us about your early days at JKH. How did you handle your job, the organization and the people?
I still remember my first day at work. It was my brother's birthday and a dinner was planned.  I told my family that I will be back straight after work to help out with the celebration. When I reported to work, I was taken to the Colombo Port, where Walkers Tours was handling arrangements for a Passenger Cruise Liner. There were many luxury coaches parked, waiting to take the guests on sightseeing tours of theIsland. Mr. Trevor Foster, who was in charge of the operation, who later became one of my mentor's told me to get in to one of the coaches as I have to go to Kandy accompanying a group, as this was my induction to the Company.  We returned to Colombo very late that evening and thereafter had to join all colleagues who were involved in the zoperation for dinner which was a tradition at that time. There were no mobile phones during those times so it was not possible for me to have gotten in touch with my family.  When I got home it was around 2 am the next morning and had a lot of explaining to do to my parents who were very worried and upset.
With God's grace,  this was the start of an exciting career with amazing memories and experiences.
John Keells was a much smaller Company at that time and I was fortunate that I got the opportunity to contribute to and be a small part of the amazing journey of Growth of the Company to what it is today.  I believe, whatever success I have achieved is mainly due my flexibility to change, the constant positive outlook and my absolute commitment to delivery. I am a strong believer that every situation is an opportunity. During the early years at Walkers Tours, I was mainly involved in operations reporting to various Managers. Being a Destination Management company, we used to receive tourists from all over the World.  The Managers and Executives in charge of different Markets were responsible for promoting business. For several years, I had been watching my colleagues often visiting various countries in Europe and the Far East.
As I felt confident of my capability in handling an international Market, I approached my boss and requested him to give me an opportunity to handle one of those interesting Countries. I was dreaming of visiting Germany, France or Italy. Boss came back and to my disappointment,  said that they felt there was a big potential in organizing inland tours for tourists who visit Sri Lanka without prior arrangements and for me to create a product to capture that market locally. So, I was not going anywhere out of the country. I was certainly not happy with the assignment, but I took the challenge. I worked hard and came up with a concept called Budget Tours offering guaranteed daily tours from Colombo.  This became an instant success and after few months we created a separate division with supporting staff called Budget Tours. I managed to turn the situation to an opportunity. With this success, I returned to the boss with lot a of confidence and discussed the possibility of handling one of those exciting markets. Boss came back with another challenge and was ready to give me an international  market to handle. I was thrilled.  Then he said,  "We want you to try and develop the Indian Market which we feel has potential". I was truly not the happiest, as that was a difficult market to promote and very few Indian tourists were visiting Sri Lanka back then. However, I looked at it as another opportunity and came up with a plan which we implemented and visited potential Tour Operator partners in different parts of India establishing new relationships over the next two years. To everyone's satisfaction, another department was created to handle the growing Indian Market which became one of the most profitable sections in the Company. Thereafter, I did not have to go to my boss. I got promoted and was flying everywhere, all over the world promoting Walkers Tours and Sri Lanka as a destination.   
You were highly recognized in the company for your achievements, after being promoted to the Managing Director position at Walkers Tours at a very young age. How did your colleagues take this?
I believe it is all about the respect for each other.  It is about your attitude and how you treat others. You cannot demand respect. You need to command it. I truly did not have any issues with any of my colleagues even those who were much senior to me. People respect you if you are a person who respects them and by judging you by your own performance and contribution towards the success of the Company.    
"Be process driven and results oriented"
How was your Stint at the Aitken Spence Group?
I was at Aitken spence Group for around four years, and got the opportunity of marketing their portfolio of Hotels. It was an interesting stint, as I had the pleasure of working with several Industry professionals for whom I have the highest respect including Mr. Gemunu Goonewardene. During this time, I was involved with them in growing the Aitken Spence Hotels portfolio in Sri Lanka and Maldives and the sector financial results. 
You returned to John Keells Group, but to a very different role as the head of Human Recourses of the Leisure Group?
While working at Aitken Spence, I got the opportunity to rejoin JKH. The role was very different to what I had done before. It was to be the Head of Human Recourses of the Leisure Group covering all Hotels and the Destination Management Companies. As always, I saw this as a great opportunity.
It was an excellent four years, as we managed to build an Operating Structure that will support and deliver operational excellence not only for our current portfolio but for the planned portfolio expansion in the years to come. We created a separate Training & Development vertical within HR with a group of competent Trainers, made adjustments to our Competency Framework and Minimum Quality Standards and invested time and finances developing our people giving them global exposure in order to deliver world class services to our guests.  

"Create a learning culture for yourself and others. Never hesitate to learn from each other, even from your subordinates"
You were then appointed as The Head of Cinnamon Resorts for Sri Lanka and Maldives and led the team till recently, making a major contribution to the success of the Leisure Group. Also, I am sure, you were involved in have played a role in the branding process which has made Cinnamon a major Hospitality Brand today. Could you tell us a bit about the strategies that were adopted. 
It was an amazing experience giving leadership to the Resort Sector. We had an excellent team. I feel, I was successful mainly because, I was able to create a very transparent culture and a working environment where all key people were encouraged to express themselves and their contributions appreciated.  It is all about motivating and getting the best out of your team members. What I learnt as Head of HR, helped me a great deal. I think all budding CEO's should do a stint in HR which will certainly help them to shape their leadership skills.
I also managed to get Operations, Marketing and Finance to work as one team with one vision and singing the same song.
You have to believe in your people. I delegated authority and responsibility extensively at all levels, however with accountability. Performance was the key. Performance was monitored on an ongoing basis and immediate action was taken as required which included mentoring team members where necessary.
We managed to create a process driven culture and make all our people at all levels target oriented both in achieving Customer satisfaction Levels and Financial Goals. Performers and achievers were recognized and promoted and Success of the sector was seared and celebrated as a team. The success of Cinnamon branding process was due to excellent team work within the Leisure Group. With the visionary leadership of the then President of the Leisure Group and the support and backing of the Board, the team strategically developed the Brand architecture, Brand Promise, Personality and Values and the required Product and Service standards.  Bringing all 14 Hotels under the Cinnamon Brand was an unforgettable meticulously planned and executed journey which resulted in Cinnamon becoming a significant Hospitality Brand in the region. This included making each Hotel property ready for branding by refurbishing them as required to achieve the required look and feel, developing the necessary competencies and soft skills of our people, creating operating processes that will be relevant and enhancing Brand visibility through marketing communication activities. The Quality Assurance Division was strengthened and a separate Brand Marketing vertical was created, led by a very competent Industry professional. This unit conceptualized and executed Brand enhancement activities, some of which were out of the box, innovative and disruptive to enhance Brand Image and Visibility. Inviting and hosting Internationally renowned celebrity Chefs, hosting International Beauty Pageants and creating a Travel Bloggers Conference were some of those initiatives.
All these Innovative campaigns resulted in getting amazing exposure in social media all over the world for the Brand and for Sri Lanka as a destination.   
Tell us why you all decided to launch Cinnamon red and your views on the 800 room Hotel being built at Cinnamon Life.
As you know the world is changing rapidly. In the new economy travel for Business purposes have increased tremendously.  The research showed that there is a segment looking for comfortable accommodation at a reasonable price.
Our brand architecture allowed us to operate luxury three-star hotels and the team conceptualized the Cinnamon red product, a lean luxury no frills Hotel but situated in a great location with beautifully decorated rooms, a swimming pool, gym, a Bar and a nice restaurant. I was involved with the project until the pre-opening.
Cinnamon red became an instant hit and had a very high average occupancy rate from the day it was opened.  Following the success achieved, a second Cinnamon red property is currently being  built in a great location in Kandy.
Cinnamon Life project which is nearing completion as you know is the single largest development under taken by a Sri Lankan Corporate. This Iconic integrated hotel and mixed-use development will change the skyline of Colombo and help make the City of Colombo a destination. It is time that we promote Colombo as a destination in addition to Sri Lanka. Like London, Paris or Mumbai. There is potential of receiving a million visitors to Sri Lanka for a year, only from India and this development will open doors to a new market segment from our neighboring country. Currently we do not have suitable spaces to host large events in Colombo and the large banquet spaces in this iconic hotel will attract MICE tourists and large Indian weddings that would help to make Colombo an attractive destination in the time to come.
"Know your business and practice what you preach. be relevant always"
What was the main Key Performance Indicator you used to monitor?
While there are many important performance indicators, my main focus was to grow total revenue per available room of all properties. The other was, indicators relating to Customer Satisfaction
What are the trends that you feel are important to be successful in the New Economy?
The main revolution in the modern economy has been the transition from a seller's market to a buyer's market. This is the result of the technology revolution that has created amazing tools and resources putting useful information and data at the buyer's fingertips.
It is a brand-new game. As you know today, the largest accommodation provider and the largest taxi company in the world are two companies who do not own any hotels or vehicles and are totally technology driven companies.
In order to succeed, today's leaders will have to be proactive and not reactive, innovative, and totally hands on. More than analyzing old Data, you need to ensure that you keep yourself updated on what is happening around us and focus on immerging future trends when decision making.
We all need to think Global and not Local as technology has made us all competing on a global platform.
"Think global, not local" 
Finally, what is the advice you can give the members of this program to become successful leaders?
Be strategic and structured in your thinking, planning and when implementing. Meticulous execution of strategies is the key.
Create a learning culture for yourself and others. Never hesitate to learn from each other, even from your subordinates.
Truly care for your people. Spend some of your valuable time helping and developing others.
Respect everyone.
Think global, not local
Be flexible to change
Be process driven and results oriented.
Self-evaluate your own performance from time to time and make adjustments and take corrective action where you feel necessary.
Make any situation an opportunity.
Have a positive attitude if you want to achieve positive results.
Encourage and recognize team work. 
Recognize people for their performance but do take in to account their competency levels when promoting.
Get your team to work SMART, never give up, get up if you fall and celebrate success as a team.
By