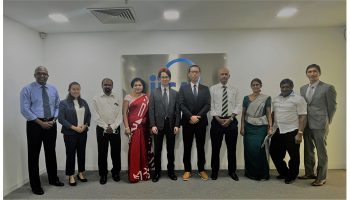 Mr. Makino Minoru, a new Japan International Cooperation Agency (JICA) Volunteer arrived in Sri Lanka on the 29th of November with the aim of providing his expertise to improve and add value to activities carried out by the Gampaha Football League affiliated with the Football Federation of Sri Lanka operating under the Ministry of Youth and Sports.
Since the inception of JICA's Volunteer Dispatch Program in Sri Lanka in 1981, a total of 1,157 volunteers have worked in the country, and their contribution towards development activities at grass-root level have been greatly valued by the organizations that have received their services in a variety of technical fields.  The biggest strength of JICA's volunteers is their practical approach to problem solving and the use of local languages (Sinhala and Tamil) which enables them to understand and speak to the hearts and minds of local people. These volunteers use extremely creative means of communication which is essential for effective training/teaching, and are able to positively influence those who work with them due to their positive attitude, strong sense of discipline and teamwork. These volunteers not only transfer technical skills, but also share knowledge on cultural aspects, and most importantly, build strong and long-lasting friendships with local people that outlast their stay in Sri Lanka.
The new volunteer Mr. Makino is specialized in Football, which he started playing when he was young and continued as a club activity during his school days. During the process, he was able to develop the skills of teamwork and strong mentality, which is why he intends to teach Sri Lankan students not only football itself, but also about other important aspects in life like concentration, perseverance etc.
Mr. Makino was introduced to his host organization at an assigning ceremony, which was held at the JICA Sri Lanka Office, on the 28th of December. The occasion was graced by Officials of the Department of External Resources, the volunteer host organization and JICA Sri Lanka Office. Our volunteer activities restarted in the month of August 2021 after a hiatus of more than 2 years, making this the dispatch of the 6th batch since then. Therefore, we are proud of new volunteers continuously being recruited to the country and wish our new volunteer Mr. Makino all the best of luck and success with all he hopes to do in Sri Lanka.