News
Nigerian Defence Adviser calls on Defence Secretary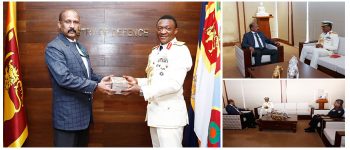 Defence Adviser of the Nigerian High Commission for Sri Lanka, Commodore Anthony Victor Kujoh paid a courtesy call on the Defence Secretary Gen. Kamal Gunaratne at the Defence Headquarters Complex, Sri Jayawardenepura, Kotte today (Feb 2).
Gen. Gunaratne and the Nigerian Defence Adviser held discussions on matters of bilateral importance including avenues to enhance defence cooperation between the two countries.
During the meeting, avenues for training assistance to Nigerian defence sector were also discussed.
Mementos were exchanged to mark the occasion held in keeping with the stipulated healthcare guidelines to contain the spread of COVID-19.
The Office of the Defence Adviser, High Commission of the Federal Republic of Nigeria for Sri Lanka is presently located in New Delhi, India and the Nigerian Defence Adviser is here in view of attending the forthcoming Independence Day celebration that will be held at the Independence Square in Colombo.
Military Liaison Officer Maj. Gen. Dinesh Nanayakkara was also present at the occasion.