Top News
Travel & Tour
People-Centric Sustainable Tourism Development and Entrepreneurial New Public Service in Sri Lanka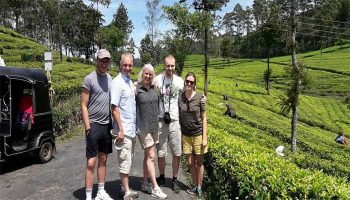 By Prof. (Dr). D.A.C. Suranga Silva
Founding Coordinator: Master in Tourism Economics and Hotel Management, University of Colombo Secretary General: Tourism and Hospitality Educators and Researchers Association of Asia (THERAA)
Director: Center for Economic Research and Industrial Policy Analysis (CERIPA) Act. Director: Colombo University Community Extension Center (CUCEC)
Tourism is a multifaceted and interconnected dynamic industry. It can generate an innumerable contribution to a country or destination through socio-economic development, cultural enhancement and environmental-friendly improvement, if the industry is properly guided. Such contribution can be created, enhanced and distributed among different sectors and segments of peoples through its Backward and Forward Linkages together with its Direct, Indirect and Induced Effects. As a result, the industry has a great potential to be economic stimulator or driving force in providing manifold income and revenue generation sources, employment opportunities, reliable source for foreign exchange earnings and consequently direct such contributions for economic growth and development of a country.
Direct, Indirect and Induced Tourism Effects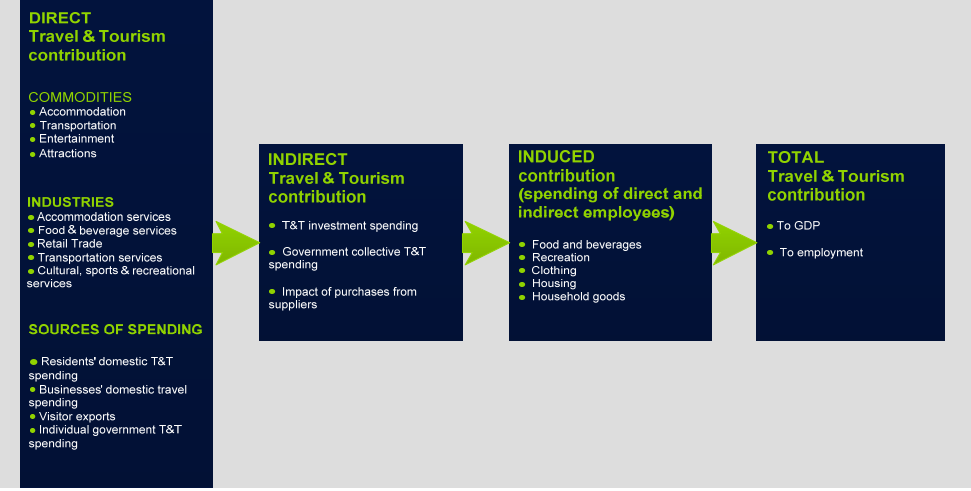 Source:https://www.wttc.org/-/media/files/reports/economic-impact-research/regions-world2019.pdf
Backward & Forward Tourism Linkages and Regional-Periphery Development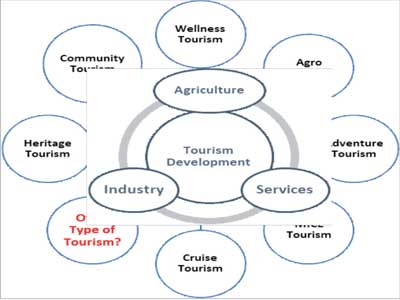 Rapid growing tourism industry has evidently illustrated its strong economic linkages for regional and local economic development in many countries. Economic contribution of tourism to the periphery rural and urban areas is stimulated through the integration of tourism development activities in agriculture, industrial and service sectors of the economy.
Tourism: An Effective Tool for Reducing of Unemployment and Underemployment
Tourism development has shown its potential power of reducing the prevailing unemployment and underemployment of rural and urban sectors, more specifically with the agriculture and informal sector of the economy. A well-focused and prioritized tourism development in the suitable sites/locations with specific activities and events in rural and urban economies can capitalize such unemployed & underemployed human and other resources to energize the local and regional economies.
Key Highlights of Growing Global Tourism:
At present, global tourism has become the 3rd highest GDP contributor to the global economy, representing more than 10% of total world GDP. The total international tourist arrivals have exceeded more than 1.4 billion and tourist receipts could exceed more than USD 1.7 trillion in 2019. In general, Travel & Tourism industry generates one in 10 jobs (319 million) worldwide and generating 10.4% of world GDP. In 2019, the Travel & Tourism industry experienced 3.9% growth, outperforming the growth of global economy (3.2%) for the eighth consecutive year (https://www.wttc.org/economic-impact/, 2019)
Global travel & tourism industry has made a paradigm-shift like situation. It has replaced the Wealthy-Friendly Deluxe Travels into a more Democratic Mass-Friendly Travels, and also from more Westernized Travels into a Globalized Travels. It has been due to several reasons. Among these reasons, (1) Reducing of travel barriers, (2) Falling real travel costs, (3) Rapid growth of disposal income and increase of the middle-income class in many countries, (4) Positive changes in global political settings and travel attitudes have led to an era of flourishing of the travel and tourism industry at global level, despite having several terrorism activities and economic recessions.
More specifically, Booming Rich and Increasing Middle Income Earners areidentifiedas one of the major reasonsofcreating a rapid growing trend in travel and tourism demand in the globe.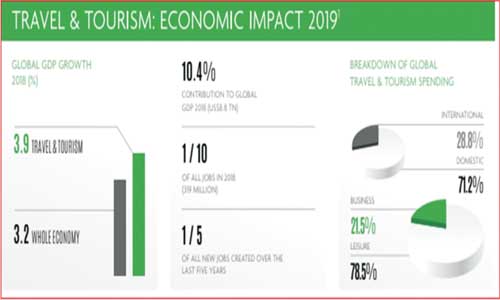 Source: https://www.wttc.org/-/media/files/reports/economic-impact-research/regions/world2019.pdf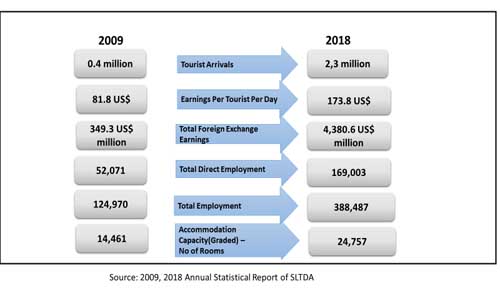 Furthermore, the recent forecasting on global tourism development clearly indicated that the most decisive regions of global tourism development in future will be Africa, the Middle East and Asia-Pacific while predicting a slow growth trend in tourism development in Europe and the America.
According to the UNWTO, more than 40% of the world arrivals is represented by 10 top countries with the most tourists receive a total of 577 million visitors in 2018.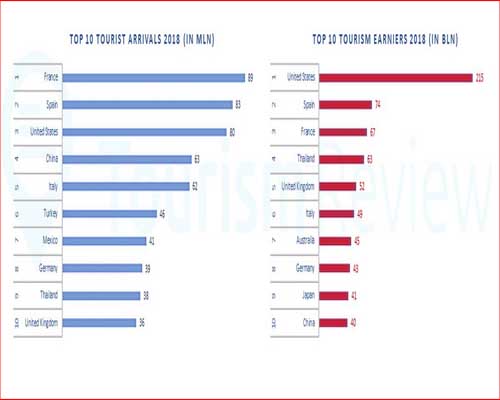 Sri Lanka Tourism: A Story of Untapped Potential
It has been clearly evidenced that the travel & tourism sector has been one of success industries in the post-war economy of Sri Lanka. The industry's growth has significantly contributed to increase (1) Level of employment, (2) Foreign exchange earnings, (3) Government revenue and subsequently (4) the economic growth of the country, through its direct, indirect and induced effects with a strong backward-forward linkages.
During past decade, from 2009 to 2018, tourist arrivals increased by nearly 475% while foreign exchange earnings of tourism increased by nearly 1150%. On the similarly, level of direct and indirect employment (total employment) increased by nearly 200% while formal accommodation capacity increased by approximately 70%.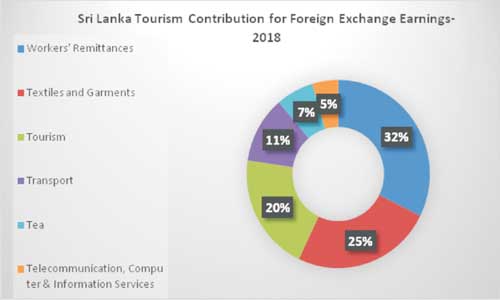 As a result of this impressive performance, Sri Lanka Tourism has now become the 3rd Highest Foreign Exchange Earner of the country, leading to reduce the current burning deficit of the Trade Account in the Balance of Payment of the country. However, if any case, reaching an unchecked conclusion that Sri Lanka Tourism is successfully performing by just looking at its current positive performance then it could surely be misleading the reality.
Potential Growth of Sri Lanka Tourism and the Tip of the Iceberg
Tourism industry of the country has been recognized as "A Story of Untapped Potential" by Sri Lanka Tourism Strategic Plan (2017-2020) of the SLTDA, Ministry of Tourism Development and Christian Religious Affairs in 2016. It is obvious fact that Sri Lanka as an island destination with a great diversity in natural environment and culture has not yet reached to meet its great potential in tourism development. The gap between the actual and potential development of the industry must be a huge. Despite the amazing tourist attractions of the country, the comparative advantages bestowed from the regional tourism growth and specific kinds of development have not been yet capitalized.
At present, Asia is one of the most powerful growth forces in global tourism. For an instance, between January and August 2019 outbound travel from Asia rose by 6%. This Asian growth performance will continue for coming years. It has already exceeded the growth rate of global tourism in average. Asia and the Pacific (+6%) recorded 343 million international tourist arrivals in 2018. Arrivals in South-East Asia grew 7%, followed by North-East Asia (+6%) and South Asia (+5%). Oceania showed more moderate growth at +3% (UNWTO, 2019). Per trip, Asian travelers spend considerably higher than the other nationalities, despite shorter stays.
Untapped Growing Potential of Asian Outbound Tourism: China is the highest outbound tourist generator in global tourism at present. The number of trips made by Chinese people to other countries or regions reached nearly 150 million trips while representing the world's highest outbound tourism spending– nearly US$ 290 billion in 2019. On the other hand, India has become one of the fastest growing outbound travel markets in the world. In 2019, there were more than 25 million outbound tourist departures from India. Growing outbound tourism markets, more specifically in China and India must be a big opportunity for Sri Lanka Tourism.
Coopetition Vs Competition for a Right Mixture of Cooperation: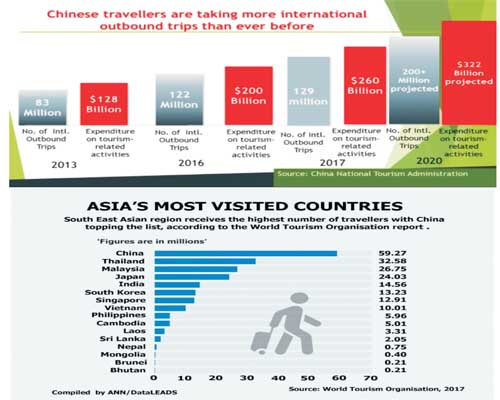 Asian inbound tourism has been dominated by several countries. China, Thailand, Malaysia, Japan, India, Korea, Singapore and Vietnam are leading the growth of Asian Tourism. China could attract more than 59 million international tourist arrivals, followed by Thailand with more than 32 million tourist arrivals in 2018. At present, Sri Lanka is trying to attract 3 to 4 million tourist arrivals. Looking at the Asian tourism trends, it is paramount important to redesign the promotion of Sri Lanka Tourism with more collaboration with the 'so-called' competitive Asian destinations with a coopetition rather than becoming a competitive destination with them to obtain certain businesses gains through the advantages of using a judicious mixture of cooperation with the competitive destinations and also with their various suppliers of the supply chain and also with their customers (tourists) complementary or related tourism products and packages.
"So-Sri Lanka" and "Rip-off Sri Lanka":
It is clearly obvious that Sri Lanka has been continuously recognized as the Best or One of the Best Tourist Destinations in the world with the accolades given by the Leading Global Travel Indicators and various travel magazines, including Lonely Planet and National Geographic Traveler etc. Tourist attractions in Sri Lanka have been fascinated with several UNESCO heritage sites, sandy beaches, attractive wildlife parks and hill country sceneries as an island of its size – undoubtedly one of the best tourist destinations in the region and the world of its size. Sri Lanka has been recognized as "So Much in So Little" considering the astonishing wildlife attractions (such as the 300-strong elephant gathering at Minneriya national park), thousand-year old Buddhist monuments representing one of the highest number of UNESCO world heritages in the region and hiking, train travels through the Hill Country's tea plantations provide tourists with "Unforgettable Travel Experiences" alone with the mesmeric socio-cultural diversity and warm friendliness of people of Sri Lanka.
Tourism Contribution for the GDP & Level of Employment by Selected Asian Countries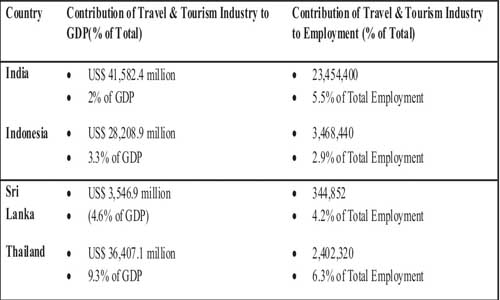 Source: Compilation of Data from WTTC, 2017-2019
Travel and Tourism Competitiveness of Sri Lanka Tourism:
The Travel and Tourism Competitiveness Index (TTCI) measures the tourism competitiveness among 140 countries of the world considering of 4 Sub-Indexes, 14 Pillars and 90 Individual Indicators distributed among these 14 Pillars, analyzes the factors that enable the sustainable development of both travel and tourism, in term of contributing to higher standards of tourism development of a country. The TTCI considers Four (4) Main Components: (1) Enabling Environment, (2) Travel Tourism Policy and Enabling Conditions (3) Infrastructures and (4) Natural and Cultural Resources.
This year, Sri Lanka has been ranked 77th out of 140 countries in terms of competitiveness of travel and tourism industry. Spain is the first in this ranking of TTCI-2019 as the best competitive country, followed by France, Germany, Japan, the United States, the United Kingdom, Australia, Italy, Canada and Switzerland (http://www3.weforum.org/docs/WEF_TTCR_2019.pdf /).
Relative Competitiveness and "Rip-off Sri Lanka": One of the major factors determining the growth of Sri Lanka Tourism is the relative competitiveness over the other competitive destination countries in the region. Sri Lanka Tourism has illustrated its poor performance in its competitiveness with the other tourist destinations in the region when Asia Pacific Region has become the Second Most Competitive Region in global tourism. Furthermore, Bangladesh has become one of the fastest growing competitive destination countries in global tourism when considering the recent performance of its overall TTCI scores. It has moved up Five Places to the TTCI Rank of obtaining 120th place at TTCI-2019. Similarly, India has moved up Six Places to the TTCI Rank of obtaining 34th place at TTCI-2019.
On the contrary, Sri Lanka is the only country in South Asia shown a significant decrease inthe TTCI Rank during last two years. It has fallen from 64th in 2017 to 77th in 2019(source: http://www3.weforum.org/docs/WEF_TTCR_2019.pdf).
This unwanted and unsatisfied performance has been created due to several factors such as: (1) Lack of Conducive Business Environment, (2) Less Improvement of Human Resources & Labor Market, (3) Lack of ICT Readiness, (4) Less International Openness, (5) Poor Air Transport Infrastructure Development, (6) Less Ground & Port Infrastructure Facilities, (7) Lack of Tourist Service Infrastructure, (8) Less Facilities for Natural Resourcesand (9) Poor Condition of Cultural Resources and Business Travels.
A Comparison of Sri Lanka Rank of TTCI with Selected Asian Countries-2019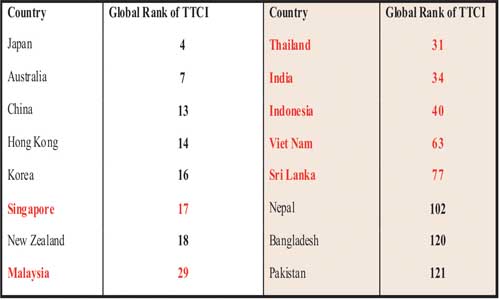 Source: Compilation of data from http://www3.weforum.org/docs/WEF_TTCR_2019.pdf
More specifically, higher Prices of Hotels, higher Air Fairs and costly Hotel Construction (by different graded hotels) clearly indicate Sri Lanka as a less competitiveness destination in the region.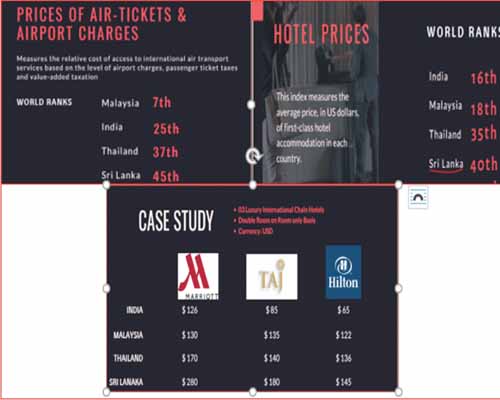 Though the competitiveness of Sri Lanka Tourism is higher than Vietnam and Nepal, it is far below than the travel and tourism competitiveness of India, Singapore, Thailand and Malaysia. However, Sri Lanka`s Safety & Security, Human Resource & Labour Market, Environment Sustainability and Tourist Service Infrastructure are relatively better than India and few other competitive countries in the region.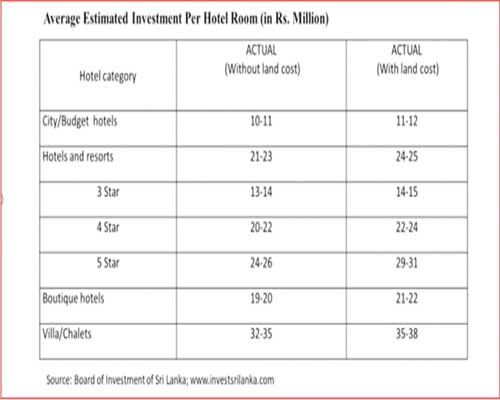 Source: Compilation data from https://str.com/data-solutions/industry-trend-report and Deloitte–STR Global and Smith Travel Research Inc.
Ease of Doing Business Index and Tourism Investment in Sri Lanka
Investments in tourism expands the capable of producing higher quality of tourism services with higher income while enhancing the level of profits, increasing the level of employment and so on.
Source: Compilation data from https://www.doingbusiness.org/content/dam/doingBusiness/.pdf
The World Bank's Ease of Doing Business Index, whichincludes different parameters to measurethe ease of doing business, ranks the economies of the world from 1 to 190, with the first place being the best. A higher ranking (a low numerical rank) indicates a conducive environment for ease of doing business and operation.
Sri Lanka is ranked 99 among 190 economies in 2020 at the Ease of Doing Business Index, according to the latest World Bank annual ratings (by considering the most recent round of data collection for the investment projects completed in May 2019). This is a huge challenging condition for the Foreign Direct Investment, more specifically, when considering the Ease of Doing Business Index of the other competitive destinations in the region. Thailand, India and Indonesia are currently showing a more favorable environment for foreign direct investment than it is in Sri Lanka.
Such under performance and inefficiencies have created in Sri Lanka due to: (1) Difficulties of Getting Electricity for Business operation, (2) Inefficiencies of Registering Property, (3) Difficulties of Getting Credits, (4) Complication of Paying Tax and (5) Problems of Enforcing contracts are several reasons for keeping Sri Lanka at 99th Position of Ease of Doing Business Index.
Yahapalana Regime and Tourism FDIs in Sri Lanka
It was a dispiriting factor that Yahapalana Regime has failed to attract the required the tourism FDIs to the country, despite having the promising potential and alluring opportunities for such investments. During 2014-2017, foreign direct investments has shown an increase in 2017 due to Sri Lanka formally hands over Hambantota Port to Chinese Firms on 99-Year Lease.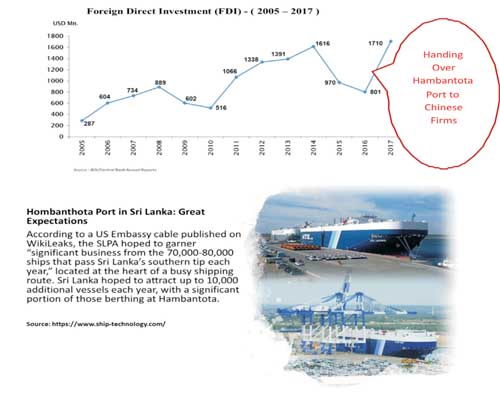 There were several reasons of creating such a dismal performance of FDIs to tourism industry: (1) Insufficient incentives to broaden the tourist generating new markets, (2) Less encouragement to create new tourism entrepreneurs & tourism business opportunities, (3) Rapid increase in basic investment costs including deprecation of currency, high-electricity charges and financial investment cost, mainly attributable to the destructive and unbridle tax burden policies on tourism business operators, (4) Ineffective attention on national security and protection, (5) Poor coordination among relevant ministries and government authorities, and (6) Less attention on meritocratic public entrepreneurship and innovative bureaucratic.
Key Challenges of Tourism Development in Sri Lanka:
Integrated and holistic policy strategies are decisive to successfully address the multi-faceted and inter-connected challenges facing for tourism development of the country.
Such policy measures and strategies should emphasize the Public-Private and People Partnership (PPPP), while not forgetting that the tourism sector is driven by the private sector with the support of public sector intervention.
Actions Speak Louder Than Words:
Sri Lanka is known as one of best tourist destination countries for developing the best policy and planning blueprints since the formal beginning of the industry in 1967.
Outcome Driven and Result-Oriented Tourism Strategic Planning: It is important to focus the outcome-driven and result based tourism planning by using appropriate policy tools, particularly to successfully adjust with the different conditions, characteristics and patterns of tourism development. Getting the maximum synergized contribution from all kinds of stakeholders for the well-focused and prioritized tourism development initiations and implementations is a must. It should orient all actions and consequent use of resources for achieving clearly defined and demonstrable results, ensuring the transparency & accountability, allowing interventions to avoid the destructive overlaps and wastes of tourism development. Such policy and planning should not focus only Inputs and Outputs, but also Outcome and Impacts.
Actions for Implementation and Evaluation: The most decisive factor of getting a great success of any tourism strategic planning and development is to design proper implementation with the relevant actions and also evaluation on such strategic planning, understanding a comprehensive process for determining the expected development goals of Sri Lanka Tourism and the steps needed to achieve such goals, with an integrated strategic approach for inclusive and sustainable tourism development of the country.
Integration of Tourism Development with National Development Priorities: Understanding of the increasing opportunity costs in developing tourism industry and balancing any such development to reach the national priorities and targets is fundamental when implementing the development activities tourism industry of the country. In other word, tourism development should not create a "Dutch- Disease Impact" to the economy of the country.
Think Globally, Act Locally and Be Proactive with Global Tourism Trends: Sri Lanka Tourism must be properly assessed with its future prospects and potential by understanding the current patterns and emerging trends in global tourism. In general, people travel for a variety of reasons such as to explore, to relax, to experience other cultures and so on, but at the core of all those reasons of travels must be gaining memorable experiences lied during their stay in Sri Lanka.
Furthermore, clear understanding of the possible contribution of (1) Continuing world prosperity, (2) Growing recognition of tourism's contribution to employment and economic growth, (3) Availability of better infrastructure, (4) Focused marketing and promotion efforts, (5) Liberalization of air transport, (6) Growing intraregional & intra-regional cooperation, and (7) Growing number of Public-Private-Partnerships & business horizontal and vertical integration as the key global drivers in deciding the successfulness of tourism strategies and policy measure is decisive for development of Sri Lanka Tourism.
The Rise of Silver Tourism: How the tourism industry can attract senior citizen tourists – "Silver Tourism 55 Plus" is to be one of the decisive instruments for the extension of Sri Lanka Tourism to a new pinnacle. It seems all kinds of branding, positioning and marketing are well done to all about generation X, Y and Z, but should not miss one of the biggest potential tourism segments – Fast Growing Silver Tourism in global tourism. It must be decisive growing demand trend for the future of Sri Lanka Tourism as the population worldwide is showing an ageing tendency, both in developed and developing countries. The tourism stakeholders of Sri Lanka must find a collective and coordinated effort to grab this Big Leap in global tourism.
Wellness+ Silver Tourism: Wellness tourism is travel associated with the pursuit of maintaining or enhancing one's personal wellbeing. Global Wellness Institutes estimates that the wellness tourism is currently generating nearly US$ 650 billion to global market at present. Furthermore, it will grow more than twice as fast as general tourism. It also has an ability to create a Powerful Intersection of two large and growing industries: the US$ 2.6 trillion tourism industry and the US$ 4.2 trillion wellness industry. Though government has recognized wellness tourism as a Key Strategic Sector for Sri Lanka Tourism (https://www.imtj.com/news/wellness-tourism-key-strategic-sector-sri-lanka/), necessary actions have not yet been satisfactory carried out, otherwise it would be one of the major foreign exchange earnings of our country by now.
Going with the Global Goals: Tourism is to be integral part of the global goals: SGD Goals. According to the UNWTO, three SDGs, namely Goal 8: Economic growth and jobs; Goal 12: Sustainable production and consumption and Goal 14: Life below water are directly connected with tourism development. Implementation of the practice of sustainable tourism development must be a fundamental policy in delivering tourism development activities in Sri Lanka.
Regional Contribution with Regional Uniqueness: Each province/region in Sri Lanka must produce its own unique and specific type of tourism development despite having some similarities in basic tourism products. Greater the Diversity in Regional Tourism Development, Higher the Attractiveness for Regional Tourism Promotion. This is well practiced by the neighbor country- India.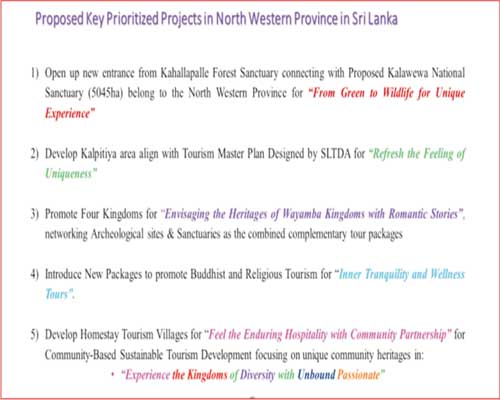 Knowledge-Driven Tourism: The role of knowledge in the tourism economy has become as one of the Most Powerful Driving Force for tourism development. It has been included as a major factor in the function of tourism production. Knowledge is the main asset for the development of tourism innovation. (1) Knowledge creation, (2) Knowledge Transferring and (3) Use of knowledge for innovation and development of tourism are crucial in Sri Lanka Tourism. Establishing a Centre of Excellence for Tourism Research, Knowledge, Innovation and Synergy must be a national requirement at present (see http://tourismleaderssummit.org/). Such development provides the necessary support to create Sri Lanka Tourism to achieve higher innovative performance and to increase the overall competitiveness.
Value Added and Fair Distribution: Tourism planning and policies must first identify and value the existing resources of the country in order to exploit opportunities and to deliver high-quality experiences to tourists through the creation of high value additions while ensuring the best value added to the economy. The Best Mixes of Tourism Product Combinations and Value Chains to create the highest possible backward and forward linkages are to be formulated while reducing the possible leakages out of the country to the best lowest.
New National Policy Framework and People-Centric Sustainable Tourism Development
In the Manifesto of Gotabaya "Vistas of Prosperity and Splendour" has been developed with the Ten Key Policies aimed at achieving the Fourfold Outcomes of (1) a productive citizenry, (2) a contented family, (3) a disciplined and just society and (4) a prosperous nation. In this manifesto, tourism industry has been recognized as one of the most important economic drivers to create prosperity and development of the country.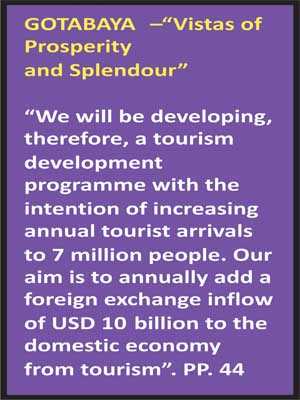 The manifesto has clearly indicated People-Centric Sustainable Tourism Development. Itemphasizes the suitable initiations that can attract different types of tourists to the entire range of accommodation facilities from five-star hotels to those staying in people's houses (homestays).
Developing Sri Lanka Tourism as an environment- and domestic-culture-friendly industry with an Extensive People's Active Participation is emphasised by the manifesto to ensure sustainable development of the industry.
On the basis of this new manifesto, it is expected to increase Seven Million of International Tourist Arrivals (from 2.1 million tourist arrivals in 2019).
As a result, it should create at least One Million of Direct and Indirect Employment Opportunities to the country. The industry needs to recruit and nurture at least 500, 000 new employees in coming years.
Get Ready and Get Set for a Take off of Sri Lanka Tourism
The key challenges to be addressed in achieving People's Friendly Sustainable Tourism Development in Sri Lanka can be highlighted with the expectation of detailing each of these in future:
tourism development of the country with right coordination among the key stakeholders through Public, Private and People Partnership.
Keeping the Stability of Government Policies for the sector's ability to attract both local and foreign investors.
Enhance the government role in tourism marketing with the private sector to expand the international tourism market through Well-Focused and Cost-Effective national marketing campaigns.
Ensure the Efficiency of Government Spending in developing tourism infrastructure and physical development under the Well-Planned, Result-Oriented and Integrated Tourism Development Framework.
Formulate short- and long-term strategies to enhance Travel and Tourism Competitiveness by thoroughly examining the necessary areas to be developed, more specifically, to ensure "Best Fundemental 5As" in tourism supply: (1) Accommodation, (2) Activities, (3) Accessibility (Connectivity), (4) Amenities and (5) Attitudes.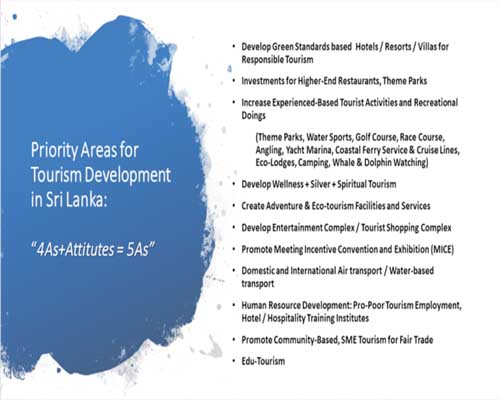 Entrepreneurial" New Public Service: Keep trust on developing and maintaining Efficient Bureaucratic and Public- Entrepreneurship based on the principles of (1) Meritocratic, (2) Responsible, (3) Pragmatic, (4) Honesty in public sector administration.