News
Plans afoot to modernize Met. Dept., DMC and NBRO with World Bank Assistance- State Minister Tennakoon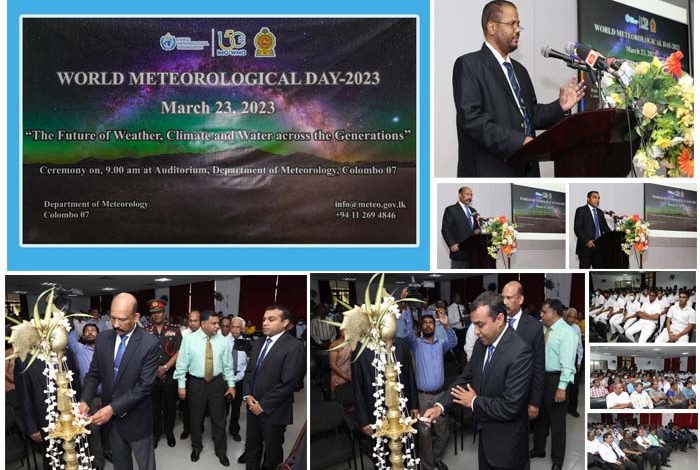 President envisioned University for Climate Change studies and in the pipeline
The services of the Department of Meteorology have a strong bearing on many spheres of economic aspects and the government has always given priority to this sector.
Forecast of the Dept. is essential when facing and mitigating disasters thus the government has decided to go ahead with the World Bank funded project to modernize the Department of Meteorology, Disaster Management Centre and National Building Research Organization, the State Minister said so while addressing a ceremony held at the Department of Meteorology in Colombo today (23 Mar).
'The Future of Weather, Climate and Water Across Generation' made the theme for the World Meteorological Day 2023 commemorative ceremony organized by the  Met Department, graced by the presence of State Minister of Defence Hon. Premitha Bandara Tennakoon MP as the chief guest.
Further speaking he stressed on the importance of adopting new technology for providing up-to-date weather forecasts based on advanced data which would be of immense use to other sectors like, agriculture, power, fisheries, tourism and that its contributions be unmeasured in financial terms.
State Minister Tennakoon also highlighted the timely importance of standardizing and maintaining stringent building standards on the fast emerging high rise and high occupancy buildings for ensuring safety in a changing climatic and geological environment.
Defence Secretary Gen. Kamal Gunaratne while speaking said that the Met. Dept has effectively evolved to take up new challenges while maintaining traditional roles. Disaster management authorities and armed forces are ever prepared to face any disasters or emergency situations.
While it is difficult to forecast geological disturbances we should continue to work in cooperation and commitment to take measures to minimize damages caused by such disasters.
Defence Secretary Gen. Gunaratne graced the ceremony as the guest of honour.
Director General of the Meteorological Department Athula Karunanayake received the chief gust and guest of honour upon their arrival at the venue.
The thematic speech was made by Deputy Director of the Met. Dept. KD Sujeewa.
Director Generals of the DMC and NBRO, Officers of the Defence Ministry and senior state officials were also present at the occasion.
World Meteorological Day is celebrated on 23 March every year commemorating the coming into force on 23 March 1950 of the Convention establishing the World Meteorological Organization.