News
Legal actions to be taken against unlawful acts irrespective of political affiliations – Defence Secretary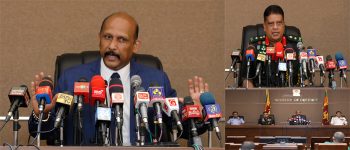 •    There is no room for anyone to harm any person in this country
•    Do not to use social media platforms for illegal motives
•    Involvement of foreign forces not required – CDS and Army Commander
Legal action would be taken against all those involved in violent acts of assaults, vandalism, damaging and setting fire to public and private properties, irrespective of any political affiliations, Defence Secretary Kamal Gunaratne said during a special media briefing held at the presence of foreign and local media at the Defence Ministry yesterday (11).
Indicating the number of damaged properties he said, since we have gathered all the video footages of perpetrators they will be brought before the law after analysing those.
As we are bound to safeguard the constitution and all citizens of this county there is no room for anyone to harm any person in the country, he added
"I request all the teachers and parents of this country to let the students to continue their education since their educational activities were previously affected by both the Covid pandemic and the Teacher's strike",
He urged not to use social media platforms for illegal motives and to summon others for unlawful activities adding that "those activities are being logged for onward legal actions".
He reiterated on the orders that were given to Tri-Forces to shoot at persons involved in theft of public property or causing damage to individuals and property.
Gen. Gunaratne also went on saying that the death toll following the recent turmoil in the island has risen to nine including two Police officers.
Due to the recent violence a total of 219 injured persons, 41 vehicles set on fire, 61 vehicles damaged and damages to 136 properties are reported, he stated while elaborating on the total damages during the briefing.
"The countrywide curfew would be lifted tomorrow morning (12) based on the status quo", he said indicating "there are no reports of violence informed today except a few minor incidents".
"Curfew may remain unchanged if unlawful incidents continue" he also reasoned and stressed that the "law enforcing agencies are prepared to react to any incidence that may arise during the coming period, day or night".
Expressing his concerns over the inconveniences caused to general public in view of the continuous imposing of curfew, Gen. Gunaratne further emphasised that security and inconvenience are two separate features and therefore requested the general public to bear the situation for a little longer until normalcy is restored.
Chief of Defence Staff and Army Commander Gen. Shavendra Silva responding to a foreign journalist about rumours said "We are a well experienced force and we are fully capable of managing with our own security and defence of the country, so we do not want any foreign forces to arrive here to restore law and order" adding "We are fully capable of managing our own security affairs as professionally-qualified tri-servicemen".
Responding to a question pointed to Navy Commander Vice Admiral Nishantha Ulugetenne, he confirmed that the former Prime Minister Mahinda Rajapaksa is presently at the Navy Dockyard, Trincomalee in view of prevailing status quo.
As soon as the normalcy is restored the former Prime Minister will be sent to a place of his choice, the Defence Secretary also added.
Air Force Commander Air Marshal Sudarshana Pathirana and a large gathering of local and foreign media were present at the today's special media brief.