News
SL Navy's latest addition arrives home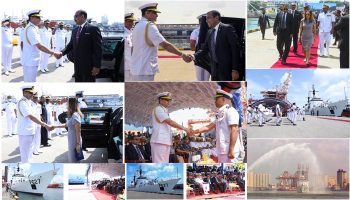 US Coast Guard handed over ship arrives in Colombo
Expected to enhance SLN's maritime capabilities further strengthen cooperation
The Sri Lanka Navy (SLN) yesterday (02 Nov) welcomed the latest addition to its expanding fleet, the offshore Patrol Vessel P 627 which arrived in Colombo this morning from the United States port of Seattle.
State Minister of Defence Hon. Premitha Bandara Tennakoon graced the occasion as the chief guest and Defence Secretary General Kamal Gunaratne was the guest of honour.
Ambassador of the United States of America H.E. Julie Chung was also present at the occasion.
The new sea asset of the SL Navy was acquired in October last year (26th Oct, 2021) after being formally handed over by the US Coast Guard.
It set sail home on 03rd September (2022) after going through modernization to suit the operational requirements of the SL Navy.
The State Minister and the Defence Secretary were received by the Commander of the Navy Vice Admiral Nishantha Ulugetenne on their arrival at the Colombo harbor.
As the ship with its given Pennant no, P627 gracefully entered home port, it was given a traditional naval welcome including a "Water Salute" while the naval band played in the background.
After docking at the pier the ship's commanding officer Captain Lanka Dissanayake made the traditional report to the navy commander and extended invitation to the ship. Accompanied by the navy commander the State Minister and Defence Secretary along with the US ambassador boarded the ship and made an inspection visit. They were briefed on the facilities and operational capabilities of the ship by the navy commander and the ship's commanding officer. The commanding officer also presented the distinguished guests mementos to mark the occasion.
The former US Coast Guard ship Douglas Munro is the second Hamilton Class High Endurance Cutter, received by the SLN. It is 115m in length and could carry 187 personnel. With a maximum speed of 29 knots it has the endurance of 14000 nautical miles at cruising speed. It is equipped with weapon systems and modern machinery that suit SLN's operational requirements.
Sailing across the Pacific and Indian oceans, the US made cutter P 627 had made history by making the longest-ever sea voyage by a vessel in SLN's history.
The ship made several stopovers including Honolulu in Hawaii, Apra in Guam, Manila in Philippine and Changi in Singapore for replenishment and services on her way home from Seattle. The initial crew of about 130 personnel had also undergone training while the ship was undergoing modernization.
Chief of Defence Staff, Commanders of the Army and Air Force, senior Ministry officials, tri forces officers, members of the diplomatic corps, and distinguished invitees were also present at the occasion.