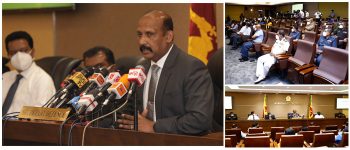 'Jaya Piritha' annually organized by the Ministry of Defence (MOD) is scheduled to be held on Jan 26 this year under the patronage of President Gotabaya Rajapaksa at the Bandaranaike Memorial International Conference Hall (BMICH) in Colombo, the Defence Secretary Gen. Kamal Gunaratne said while addressing media personnel at a media brief held at the Ministry on January 18th .
This year's 'Jaya Piritha' will be held with the participation of 1000 Buddhist monks invited from around the island including Maha Nayake and Anunayaka theros with a view to invoke religious blessings on the country, all Sri Lankans and also to save the country from the pandemic, Gen. Gunaratne went on saying.
The Defence Secretary also asserted that all proceedings will be held conforming to the stipulated healthcare guidelines in order to contain the spread of the pandemic.
Family members of deceased war veterans and differently-able war heroes will also attend the event which also invokes blessings on them and the tri-forces.
Responding to a question, the Defence Secretary said that only a limited number of members of the public could be accommodated at the BMICH premises this year as per the COVID -19 health guidelines.
The MOD organized 'Jaya Piritha' was initially held under a notion of the former Defence Secretary and current President Gotabaya Rajapaksa with the participation of between 3000 to 5000 Buddhist monks, he said recalling the origin of this annually organized event.
Previous 'Jaya Piritha' held during the peak of the pandemic saw the chanting of Rathana Suthra, Gini Piritha and Jaya Piritha by the members of Ven. Maha Sanga.
The President's Secretariat, Ministry of Home Affairs, Ministry of Public Security, Ministry of Buddhasasana, Religious and Cultural Affairs, Office of the Chief of Defence Staff, Commissioner General of Buddhist Affairs, Tri-Forces, Sri Lanka Police and Civil Security Department will extend their supportive hands in organizing this noble event that will be culminated after all night Pirith chanting and alms-giving on the following day, he added.
MOD Additional Secretary (Administration) Gaminie Mahagamage, Director General of the President's Media Division Sudewa Hettiarachchi, Adjutant General of the Sri Lanka Army Maj. Gen. Deepal Pussella, President's Media Spokesman Kingsly Ratnayake, MOD Director Media Col. Nalin Herath, administration representatives of Tri Forces and Police and a large gathering of print and electronic media personnel were present at the media brief.