News
Polish Defence Attaché calls on the Defence Secretary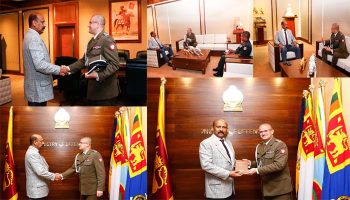 Defence Attaché of the Republic of Poland in New Delhi for Sri Lanka  Colonel Radoslaw Grabski made a farewell courtesy call on the Defence Secretary Gen. Kamal Gunaratne at the Defence Ministry complex today (March 21).
During the interactive meeting, the Defence Secretary extended his sincere gratitude to Colonel Grabski for the support and cooperation extended to the Defence Ministry during his tenure.
Mementos were exchanged between Colonel Grabski and General Gunaratne signifying the occasion.
Military Liaison Officer of the Sri Lankan Defence Ministry Maj. Gen. Dinesh Nanayakkara was also present at the occasion.