News
South African HC meets Defence Secretary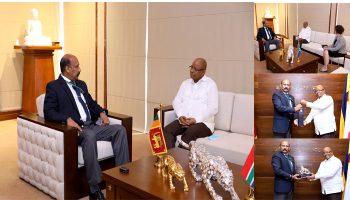 South African High Commissioner to Sri Lanka His Excellency  Sandile Edwin Schalk  paid a courtesy call on the Defence Secretary Gen. Kamal Gunaratne at the Defence Headquarters Complex, Sri Jayewardenepura, Kotte Yesterday (March 03).
The Sri Lankan Defence Secretary warmly received the newly appointed High Commissioner on his arrival.
A cordial discussion was held during the meeting to further enhance and strengthen the existing bilateral ties between the two countries.
High Commissioner Schalk also praised the Sri Lankan administration for handling the COVID situation effectively and opening the country for visitors.
The Defence Secretary and the High Commissioner exchanged mementos and gifts to mark the occasion of his first visit.
High Commissioner Schalk presented his credentials to His Excellency the President Gotabaya Rajapaksa at the President's House in Colombo on Nov 16, 2021.
Deputy High Commissioner / Political Counsellor Ms René Everson-Varney and Military Liaison Officer of the Sri Lankan Defence Ministry Maj. Gen. Dinesh Nanayakkara were also present at the occasion.