News
SL Defence Secretary's meeting with Egyptian Defence Minister paves way for cooperation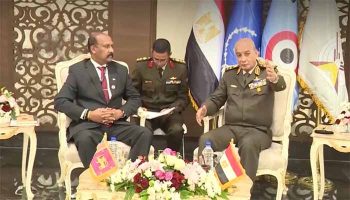 Defence Secretary General Kamal Gunaratne, who undertook an official visit to Egypt leading the Sri Lankan delegation to the EDEX 2021, had a fruitful discussion with Gen. Mohamed Zaki, Minister of Defence of Egypt on Tuesday, 30 November 2021.
The discussion focused on broadening the defence cooperation between the two countries, embracing the new areas of cooperation including counter terrorism and extremism, intelligence sharing, training for the armed forces, exchange of high level visits etc.
The visit of the Defence Secretary and his delegation which also included Air Marshal S.K. Pathirana the Commander of Sri Lanka Air Force and Mr. R.M.P.S Rathnayake, Addl. Secretary, Ministry of Defence marks the first high-level visit to Egypt from Sri Lanka in the sphere of defence sector in the last two decades.
During the meeting, the Defence Secretary also extended an invitation to the Minister of Defence of Egypt to pay an official visit to Sri Lanka in the next year.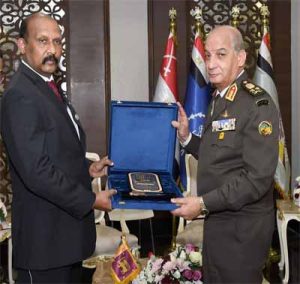 Egypt Defence Expo (EDEX-2021) which was held for the second time under the patronage of the His Excellency Abdel Fattah El-Sisi, President of the Arab Republic of Egypt featured a wide range of defence products across the world showcasing the latest technology, equipment and systems across land, sea and air.
Sri Lankan Ambassador to Egypt M.K Pathmanathan, the senior officials of the Defence Ministries of Sri Lanka and Egypt and the Embassy of Sri Lanka also participated in the meeting.