News
COLOMBO SECURITY CONCLAVE 2023 COMMENCED VIRTUALLY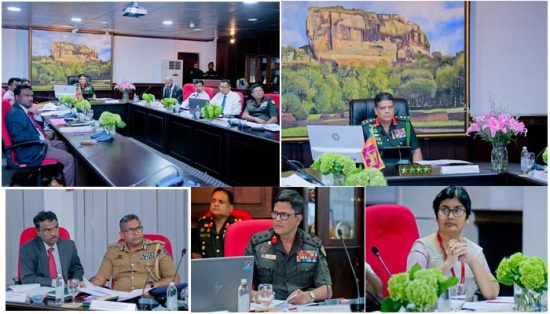 The quadrilateral security consortium, the Colombo Security Conclave, which is aimed to foster a comprehensive and interlocking security architecture in the South Indian Ocean Region held its 7th version virtually yesterday, (12 July 2023).
The 7th Deputy National Security Advisor Level Meeting of the Colombo Security Conclave accords an important milestone that discusses approaches to implement the protocol for cooperation for 2023-2024 and programmes of actions agreed at the 6th Deputy National Security Advisor Level Meeting of Colombo Security Conclave.
Delivering the opening remarks via virtual platform from the Office of the Chief of Defence Staff (OCDS), General Shavendra Silva WWV RWP RSP VSV USP ndc psc MPhil the Chief of Defence Staff (CDS) congratulated the organising country, the Maldives for the 7th Deputy National Security Advisors and conveyed his gratitude to all the DNSA's of the member countries and observer countries, respective lead coordinators and pillar coordinators for attending the regional security meeting. He further emphasised the importance of these types of meetings that ultimately benefit to ensure the regional security architecture whilst promoting cooperation among the neighbouring countries.
Addressing the conclave, CDS invited the member states to take into discussion the ways and means of ensuring maritime security in the region drawing their attention to the recent developments in this regard. His speech also addressed the threats related to human trafficking and transnational crimes and terrorism, extremism, and radicalization that challenge peace in the regional countries. With the advancement in information technology, the need of better preparation of the regional countries for new threats like cybercrime, data interception, and cyber-attacks was also brought into the discussion. "Humanitarian assistance and disaster relief are of paramount concern in relation to the security of the region" General Shavendra Silva further added.
The Sri Lankan contingent headed by General Shavendra Silva was comprised of SL Dhammika K Wijayasinghe Additional Secretary (Defence), Brigadier Anil Perera RWP RSP USP Director Operations Disaster Management Centre, Captain (C) WMMSB Wahala USP psc Deputy Director Naval Operations Sri Lanka Navy, Commander Nirosha Ananda (Retd) Sri Lanka CERT, Colonel PC Priyadarshana RSP USP Lsc Senior Staff Officer (Ministry of Defence National Intelligence Division), DIG Priyantha Weerasoriya Senior DIG (Crime), SSP WM Samarakoon Banda Director – Human Trafficking Smuggling Investigation and Maritime Crime Investigation Ministry of Public Security (Sri Lanka Police), Mr Charitha Kulathunga Representative of the Ministry of Foreign Affairs.
The meeting hosted and moderated by the Maldives was also attended by representatives of the member states, India and Mauritius Island. Also, representatives of Bangladesh and Seychelles joined the virtual meeting as observer states.