News
We begin this year with a new hope to make it more productive – Defence Secretary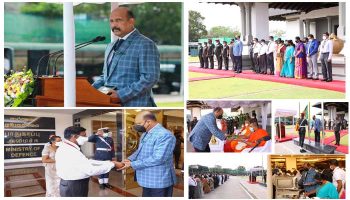 The Defence Ministry has been successful in providing a continuous service to meet public expectations amidst the COVID-19 pandemic and it should be carried forward while giving priority to healthcare guidelines in order to fulfill the duties and responsibilities diligently in this challenging situation, the Defence Secretary Gen. Kamal Gunaratne said while praising the efforts of Ministry staffers today (Jan 3).
Gen. Gunaratne expressed these remarks during a brief ceremony organized to usher the dawn of 2022 while giving prominence to religious proceedings in keeping with the long held traditions at the Ministry premises.
Defence Secretary hoisted the National Flag followed by the reciting of the National Anthem and a moment of silence was observed as a mark of gratitude and remembrance to all those great souls who made the supreme sacrifice towards ushering an era of peace and unity in the motherland.
All present at the ceremony also took the Government Servant's Oath during the session.
As the effort of last couple of years to realize the "Vistas of Prosperity", the nation building policy statement of the President, we begin this year with a new hope to make it more productive than previous years, he noted.
Citing the current global state of economic and social crisis, he went on saying the efforts of government led by the President, which is successful in facing the epidemic while administering the booster dose programme as the country is pacing towards normalcy.
Further recalling one of the great leaps forward in Sri Lankan history, the Defence Secretary thanked all those who were involved in the Sandahiru Seya construction, which was built as a tribute to the country's war veterans.
Speaking on the measures taken to enhance the welfare, especially the payment of salary and other financial benefits to differently-able members of the Armed Forces and the Police and dependents of those killed in action and monthly allowance to the parents of unmarried war heroes after reaching the age of 55 of the veteran, Gen. Gunaratne expressed his happiness as a former member of the Armed Forces and also as the Defence Secretary being able to make this a reality.
Preventive measures taken by the Ministry and institutes under its purview during the last two years has been able to contain the drug menace which had plagued the youth, he added and went on saying that it is undeniably a significant achievement that our national security and social safety has been further strengthened through actions taken to control the extremist groups and underworld gangs.
Ven. Maha Sanga, Chairperson of Defence Ministry's Seva Vanitha Unit Chithrani Gunaratne, senior ministry officials, senior Tri Forces and Police officers, heads of institutes under the Ministry's purview and Ministry staffers were present at the occasion held adhering to healthcare guidelines.