Travel & Tour
Spanish travelers enthralled by So Sri Lanka experience at FITUR Travel Fair, Spain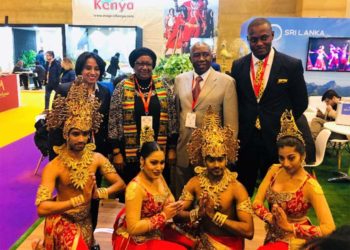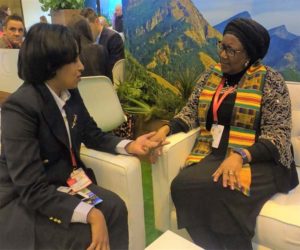 Being named by the world renowned Lonely Planet as the number 01 country to visit in year 2019, Sri Lanka was able to attract high level of attention from all trade and travel visitors attended at the 39th edition of the largest travel fair in the Spanish and Latin American region, FITUR International Travel Fair which took place in Madrid, Spain from 22nd -27th January 2019. Among the wide participation of countries from around the world, Sri Lanka was present at this prestigious show for the third year in a row, along with representation of Sri Lankan travel agents, hoteliers and tour operators. Destination Sri Lanka was presented in a unique and unparalleled manner to the avid Spanish travel trade, showcasing varied experiences ranging from destination branding, variety of tourism products, colorful Sri Lankan cultural performances, Ceylon Tea tasting, consumer surveys and attending to all inquiries in a timely manner. Strong representation of record number of local travel partners, the travel fair was able to maximize the opportunity to showcase Sri Lankan tourism products in offer to the Spanish market.
The official stand opening ceremony at FITUR Travel Fair was held under the auspices of The Ambassador of Sri Lanka in France designated to Spain H.E. Mr. Buddhi Athauda, Mr. Augustus Ilanas, Honorary Consul designated to Barcelona ,Spain with Ms. Sarangi Thilakasena, Assistant Director Marketing of SLTPB, Ms. Chandima Abeyratne, First Secretary Commercial at Embassy of France and officials from the UNWTO, Ms. Daniela Wagner, Regional Director, Pacific Asia Travel Association (PATA), Mr. Omar Nawaz -Representative of Regional Programs division UNWTO, Federation of Spanish Travel Agents (CEAV) and travel trade participants of Sri Lanka.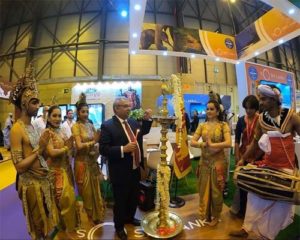 Speaking at the opening ceremony,  Ambassador Buddhi Athauda noted that Tourism sector in Sri Lanka has shown a continuous growth for the past few years and has become one of the key sectors contributing to socio-economic growth. This year the industry targets 2.5 million arrivals and growth markets like Spain will contribute in a broader manner to achieve this target. He asserted that Embassy is anticipating to work closely with the industry in order to facilitate promoting Sri Lanka to Spanish travelers. He further mentioned that being nominated as the World's No: 01 country to visit by travel bible Lonely Planet will certainly give an extra edge to support promoting the destination to new markets and to ensure higher yield from existing markets. We have a golden opportunity ahead of us "he concluded.
Fifteen key companies representing the tourism trade including Jetwing, Aitken Spence, Delux Holidays, Barberyn Reef Ayurveda Resort, Ceylon Tours, Ceylon Roots, Royal Holidays, Zenith Expeditions, RIU Hotels, Sri Lanka Express, World Lanka Tours, Shanti Travels, TFG etc. took part at the exhibition from Sri Lankan travel trade.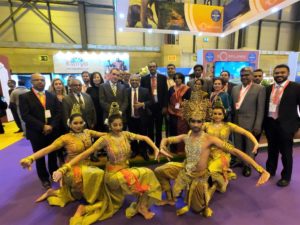 Spain being a key growth market generating tourists to Sri Lanka, identifying its potential for growth, actions were taken to set up an attractive stall in the FITUR, inclusive of all the tourism products related to the market. Accordingly, this year Sri Lanka Tourism stall was specifically designed to showcase So Sri Lanka theme giving much focus on promoting Sri Lankan beaches, wild life, heritage and culture that are highly favored by French Travelers. Sri Lanka stall served freshly brewed Ceylon tea to all visitors which became a major attraction at the show. Estimated consumption of Ceylon tea exceeded 60 liters per hour and more than 1500 cups served during a day showing that the Spanish loved their cup of tea very much. Sri Lanka Tea Board provided the tea served at the stall free of charge to be used at the stall.  Sri Lanka stand epitomized the "So Sri Lanka" motif adding vivid sights and sounds to attract the potential visitor segments.  The young & dynamic cultural dancing troupe "Sri Desi" daily performed variety of Sri Lankan cultural dances attracting the attention of visitors and adding much color and liveliness to the Sri Lanka stand and adding true Sri Lankan experience on the stage. Their performances attracted visitors in crowds who flocked into take photos and selfies with the dance team which in return published in social media, generating real time publicity for Sri Lanka. With all these attractions in place Sri Lankan stall was able to attract many number of visitors with its unique design and variety of experiences offered.
On the sidelines of the FITUR travel fair, Sri Lanka Embassy in France, in collaboration with SLTPB took the opportunity to organize a networking session with key Spanish investors and tourism stakeholders. The Embassy of France's First Secretary Commercial Ms. Chandima Abeyrathne presented the trade and investment opportunities to the Spanish delegation. Sri Lanka Tourism presentation was done by Ms. Sarangi Thilakasena –AD Marketing to the gathering highlighting various tourism attractions Sri Lanka has to offer. During the networking session the participant companies had numerous inquiries on the trade, investment and tourism products of Sri Lanka. The Ambassador of France addressed the gathering along with Vice Chairman of Madrid Chamber of Commerce and invited the attendees to explore the immense opportunities Sri Lanka has to offer to business and travellers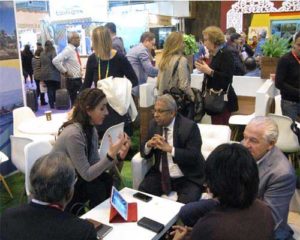 alike.
Meantime, the SLTPB and Sri Lanka Embassy of France also took steps to arrange Business Meetings, exclusive media interviews, Air Line meetings pre and post FITUR 2019. The interview conducted with world renowned TIME Magazine on eco-tourism of Sri Lanka was one of the key publicity generated during the fair. Other leading publications like Conde Nast Traveller, Anoche Tuve un Sueño, El Mundo etc will be featuring Sri Lanka in their publication in the upcoming issues. The Spanish National TV did a full coverage on live during the fair on the destination and the various cultural and historical assets of Sri Lanka during the show as well. The travel fair created the opportunity to meet with influencers, bloggers and other social media personalities in the Spanish region who will be visiting the country soon in future to generate exposure to Sri Lanka.  As a result of the discussions with the travel agents and tour operators, Sri Lanka Tourism and Embassy of France will plan to conduct a travel agent FAM Tour to Sri Lanka to further enhance the trade links between the travel sectors of the two countries.
Over all, FITUR travel fair generated many opportunities for promoting destination Sri Lanka among Spanish travelers specially highlighting the importance of creating awareness even more in this market in order to maximize the traveler influx to Sri Lanka. With the impressive growth recorded so far in this market it is expected that Spain will soon become a top destination for Sri Lanka in the near future.