Travel & Tour
Sri Lanka participates at South Asia's Travel and Tourism Exchange (SATTE)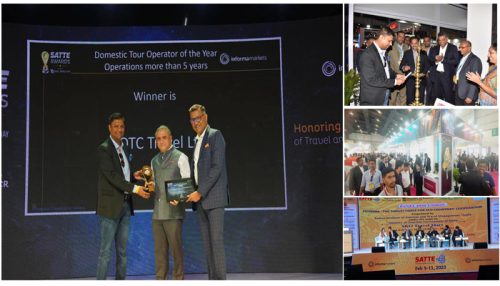 SLTPB has identified India as the number one source market for Sri Lanka tourism and India has been identified as one of the fastest growing outbound markets in the world. It is a need to conduct promotional activities continuously to promote the island as a desirable tourist destination to India as well as create a platform for the industry members to expand their network from India.
The Indian travel market is at its inflection point, and is one of the fastest growing in the world. By 2025, a report by Expedia expects 13.9 million leisure departures from India, leading to 19.4 million Indian visitor arrivals overseas, with a major contribution from Tier II and Tier III cities. Business travel accounts for 26% of the outbound trips, making India one of the largest business travel markets globally.
It is highlighted with the tourist arrivals which were generated from Indian market for past years and this year as well. Sri Lanka Tourism has generated 424,887 tourist arrivals in 2018 which marked the best year of tourism for Sri Lanka. For the year 2022 we received 123,004 arrivals.
SATTE (South Asia's Travel & Tourism Exchange) offers a comprehensive platform to domestic and international buyers and professionals from across the travel, tourism, and hospitality industry along with National and State Tourism Boards (NTOs and STOs). SATTE is recognized as Asia's Leading travel and tourism exhibition to conduct business, share knowledge, exchange ideas in order to arrive at solution-driven innovations to accelerate the pace of the growth of the industry. SATTE is well-supported by the Ministry of Tourism, Government of India, National, and International Tourism Boards, Indian and International travel and trade associations, and organizations amongst others.
The 30th edition of SATTE held at India Expo Mart, Greater Noida, Delhi-NCR from 09th – 11th February, 2023. Over the years, SATTE has grown both in terms of exhibitors and visitors (including international and domestic buyers) and is today the biggest networking forum for the travel and tourism industry in South Asia. The three-day business networking trade show, is the biggest event in India with more than 1,200 exhibitors from over 50 countries, 35,000 + trade visitors, 800 + VIPs & Delegates and 28 State Tourism Boards participated at SATTE 2023.
This year SATTE Sri Lanka had an opportunity to participate at Shanghai Cooperation Organization – SCO Travel Mart with other member countries as a Dialog Partner with the High Commission of Sri Lanka in New Delhi.
The major objective of SCO Travel Mart is to and from SCO member states through the tour operators. With the SCO Travel Mart provided an opportunity to part the congregation brought together all sections of the tourism industry to learn, network reconnect and transact business in a very safe and secure environment.
Mr. Chalaka Gajabahu , Chairman  SLTPB had an opportunity to participate at the panel discussion of SCO Travel Mart on 09th February, 2023 under the theme of "Highlight the best practices followed in Sri Lanka to strengthen cross-border cooperation through tourism".
Sri Lanka Tourism Promotion Bureau has been continuously participating SATTE Travel Fair. This year 49 local travel & tourism companies participated and around 100 local delegates participated at the SATTE 2023 with Sri Lanka Tourism.