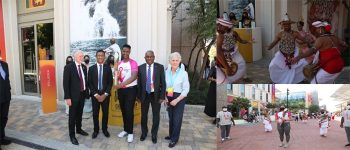 Sri Lanka's glorious culture was on full display at Expo 2020 Dubai – as Kandyan dancers swirled gracefully to the rhythmic beats of traditional drums to welcome the 2022 Commonwealth Games Queen's Baton to the Sri Lanka Pavilion on 10th February. The Baton arrived at the Sri Lankan Pavilion to coincide with UK's National Day at Expo 2020 and was met by HE Malraj de Silva, the Sri Lankan Ambassador to the UAE and Consul General of Sri Lanka Mr. Nalinda Wijayawartne.
The procession arrived at the outer area of the Sri Lankan pavilion with baton bearers Abdullahi Isse and Tina Gillespy. The welcome procession included Dame Louise Martin DBE, President, and Commonwealth Games Federation, and Councillor Ian Ward, Leader, Birmingham City Council, and eight members of the UK pavilion and UK Press were also present. The Baton visited pavilions at the Expo, in the opportunity district, belonging to the Commonwealth Nations.
The Birmingham 2022 Relay began on 7 October 2021, with Her Majesty the Queen Elizabeth II placing her message to the Commonwealth into the Baton which is travelling across the globe.  The Baton is now on a 294-day long journey to every corner of the Commonwealth.
The Sri Lankan pavilion celebrated the arrival of the Baton with music, dance, warm cups of Pure Ceylon Tea, and fellowship. Visitors and well-wishers were able to take pictures with UK Pavilion delegates on the occasion. The closing ceremony took place with yet another enthusiastic Kandyan dance session to bid farewell to the baton with Tina Gillespy, taking the baton on its onward journey. The baton's journey aims to ignite hope, solidarity and collaboration, which is aimed to connect communities and hold unique cultures and shares inspirational stories.