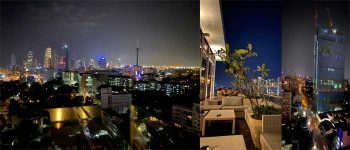 By Kasun Abeynayaka Catalyst-Public Policy,Diplomacy,Intentional Relations,Specialist-Events&Hospitality,Senior Lecturer-Tourism Economics
Sri Lanka Tourism is the 3rd Revenue generator to the National Gross Domestic Production (GDP) Sri Lanka Tourism Promotion Bureau (SLTPB) is the agency for promoting tourism across the world. This organization contains high density of decision making and Tourism Promotion campaign at all levels. SLTPB is a back end integration of the Service Deliverable.
In the process of the decision making the vital factor is reliable and accurate data. At present entire world is moving forward for digitization hence more data can be collected through digitization nevertheless finding an accurate data is a challenge to all decision makers in the sector. All reliable and accurate data stimulate vertical and horizontal effect of the organization. Organizations prefer to maintain efficiency effectiveness and productivity at all time. The foundation for Service delivery depend on reliable and accurate data.
This Study will find Solutions for reliable and accurate data for service delivery in Sri Lankan Tourism Promotions. This study will discuss following areas in details
Reliable and Accurate data in the Government System in Sri Lanka
Re imagining Productive Longevity
Mismatch ,
Missed Matches
Mind sets
Reliable and Accurate data in the Government System in Sri Lanka
As per Information Communication Technology Agency (ICTA) The government organizations should accept the following factors, which are intrinsic to Egovernment, as key principles on which ICT solutions will be implemented. These issues are addressed in the body of the Policy and some issues are addressed in the government Information Security Policy, but are emphasized below In Sri Lanka. · Accessibility: Providing information and citizen services over the web and ICT channels will make them available to a larger section of general public. Therefore all possible measures should be taken to make the services accessible to the public without discriminating on ethnicity, language, religion, gender, for differently-abled persons, or based on geographical locations, time, or on economic levels. It is essential that all citizens including differently-abled persons should be taken into account while devising e-government solutions.
Transparency: ICT based solutions should improve the transparency by allowing the pubic to monitor the mandate of the organization, functionality, decision making processes, the progress of a process at different stages and clearly informing them of the type and the quality of the services they obtain. The e-government models should always encourage transparency
Efficacy: It is important that the services provided by Government organizations using ICTs, meet and exceed the expectation of the citizens. The efficacy at which the services offered should be a key factor that determines the quality of the services provided through using ICTs.
Efficiency: Services should be available to the public within the minimum possible time. A concept popular in e-government solutions is "same day service"; where a service requested by a citizen in the morning should be made available to him/her before the end of the same day. Although it is difficult to expect this level of delivery from every service from the inception, all government organizations are expected to provide citizen services efficiently so that the public is not made to wait for the services requested.
Citizen centric: In providing information and services, government organizations should establish a citizen centric approach instead of a traditional organization centric approach. In order to do so, government organizations should reengineer their processes to convert the government organizations to "one stop shops" thus making their services citizen-friendly. Citizens should be able to then obtain services through submitting minimum necessary supporting documents and visiting a minimum number of organizations.
Interoperability: Government organizations should ensure when implementing ICT programmes that these are interoperable – enabling electronic data sharing and data exchange between different systems – throughout all government organizations, and also with the industry and other key sectors.
Confidentiality, integrity and availability: All government organizations should preserve the confidentiality, integrity and availability of the information within their purview. This entails that citizens should have the assurance that government information is shared only among authorized persons or organizations, that the information is authentic and complete and can be relied on for the purpose for which it is needed, and also that it is accessible when needed by those who need it. This area is further addressed in the government Information Security Policy.
Accountability: Government organizations should be accountable towards the citizens and for the services provided, so as to foster confidence in citizens in the use of such services, and in interacting with government organizations.
Re imagining Productive Longevity
Productivity is simply the creation of value Which can occur in paid workd and also unpaid work .Measurements for productive longevity therefore extend beyond traditional data collection methods must be re engineered towards reliable and accurate data for Service Delivery. Also continued sate of engagement in qualitative methods of collection of Data. This Structures a meaning, Identity and slows physical and cognitive decline.in other words SLTPB's Financial and Brand Health for per-condition of productivity and also an outcome of productivity.
Reliable and Accurate data has surfaced four areas of Concern
1. Competency to work with Data and produce new opportunities
2. Organization (SLTPB ) is not always willing or able to employee with Data
3. Existing Data Information portals of opportunities are often under utilized or not known to employees
4. Poor Attitude towards the reliability and accurate data base decision making
Mismatch
Ensuring all data remain productive requires to SLTPB to look beyond the adequacy of tangible assets ( such as finical resources )to include intangible assets. There are 03 types of assets
Vitality –Health and well-being, enable seniors to live and work longer with positive data mind sets
Productive-Assets such as skills expertise, professional networks, enable to access of data and access new productive opportunities
Transformation Assets- Such as resilience, adaptability, Self-Awareness, enable Employees to make successful transitions into new areas of opportunity and deal with changes in life or work routines
The Relatively lower educational attainment of today's Data in their early stages , coupled with the rapid pace of technological developments, means that our seniors need to acquire new productive and transformation assets
Missed Matches
Missed matches between Reliable and Accurate data can and do occur, especially with poor information flow. While the current landscape of programmes and schemes to support Data in their productivity is variegated and comprehensive, national platforms are not data Centirc and Data centric platforms are lack of scale .
The fragmented system poses challenges for navigation and leads to sub optimal outcomes, with missed opportunities for cross referral, outreach or joint delivery for services .
Missed Matches between Reliable and Accurate data project unhealthy decision making for services upon following areas.
Theoretical Framework and Hypothesis Development
The Design
Data Collection Methods : Introduction and Interviews ,Observations and questionnaires
Experimental Design
Measurement of Variable : Operational Definition, Scaling , reliability and Validity
Sampling
Quantitative data Analysis: Hypothesis Testing
Qualitative Data Analysis,
The Reporting
Mind sets
Mind-sets play a powerful role in supporting or producing Reliable and Accurate data. Unfortunately, today portrays Decisions based on reliable and accurate data as a period of decline. Media representation of Data tend to be scare, inaccurate or framed in dis empowering stereotypes.
One way to shift the narrative is to reshape the citizens' choice architecture in relation to decisions making which is heavily influenced by the service delivery. The Data protection act protects unfairly dismissal of data while balancing competing interests among government, employers and younger workers.by providing mechanism for protection of Data.
Recommendations
Improve Productivity Capacity
SLTPB should Develop Course package for different profiles of Job Roles.These Packages should comprise cross industry data, Hard skill, Soft Skill and those relating to transformation assets. SLTPB should design a good balance of the necessary skills to be acquired, curated for different profiles.
SLTPB could institute a structured and systematic national wide outreach programme tha gathers all relative Data . This review would cover both their tangible and intangible assets. Same Conversations to help students prepare for the transition to working life. A Structured Data review will be crucial in helping them take stock of their current assets abs plan for meaningful and productive future
SLTPB can Develop Sector- specific plans to help companies become more friendly ,assessment of the scope ,Tech savvy, risk of displacement as well as transition plans for all. This can consider providing a bonus dependency ratio Ceiling to those companies in the identified sectors who commit to undertaking restructuring in order to be more data friendly.
Dealing with missed matches
SLTPB can adopt a more Data Centric Approach and devise a coherent strategy Across agencies for both for both paid and Non Paid Data.
Work Force of the Sri Lanka Tourism could be the lead source to improve reliable and accurate data for Sri Lanka Tourism Promotions across the Globe with right decisions. Working with provincial Council for 3rd part which currently volunteerism for Data.
For a Start Provincial Councils could develop a common frame work of based on mapping collecting, Processing and Analyzing Data Primary and Secondary Data. Common referral Processes and the sharing of client data their network to touch-points will significantly multiply reach and improve the effectiveness
Context Matters in the implementation of technology for Reliable and Accurate data as well as for decision making for service delivery. In designing and thinking of technology, for Data collection and Analysis, Due consideration needs to be given to those who making decision based on Data interpretation, Technology can also facilitate Reliable and Accurate data storage too.
Humanizing Technology means pursuing technology that appeals to SLTPB senses and needs. Technology should be personalized to individual needs and learning habits-the user friendliness, learning curve, accessibility options and customization settings of modern devices
Technology takes into account functional design that can meet the specific needs of the Data collection and analysis who may experience diminished tactile, auditory and visual senses that varies from person to person.
Another aspect of Technology that can often be overlooked is its psychological value. Such Psychological appeal make the embrace of technology. The Social appeal of technology is akin to creating personalized virtual and community spaces where SLTPB does not need to physically meet data all the time in order to stay in touch
Deeper Understanding of VR And AR
Promoting active Data through virtual reality ( VR )and augmented ( AR ) reality engage passive user versus active user approaches to technology for Data. VR and AR interactive technology offers many advantages to the field of reliable and accurate data for service delivery
1. The Systematic Service Delivery and control of digital parameters, such as difficulty levels or task requirements. This means that challenges in interactive learning scenarios can vary according to individual needs, including educational level, language ability and familiarity with technology
2. Realistic environments can be simulated for interactive scenarios, incorporating challenges that require real world social and practical skills for reliable and accurate data. These mean that training outcomes can be readily applied to the real world
3. A wealth of High Quality Interactive Data can be collected. This may include the time taken to complete a task,or other behavioural information. This data can be used to asses and review the training process for each person, and for machine learning to improve future development and design
4. Game Features can be added to serious tasks. Features such as real time visual, auditory and haptic feedback can motivate users and can also help them feel more immersed in the virtual interactions scenarios