Top News
Resilience in the face of Climate Change
Inception Workshop for the Climate Finance Network Project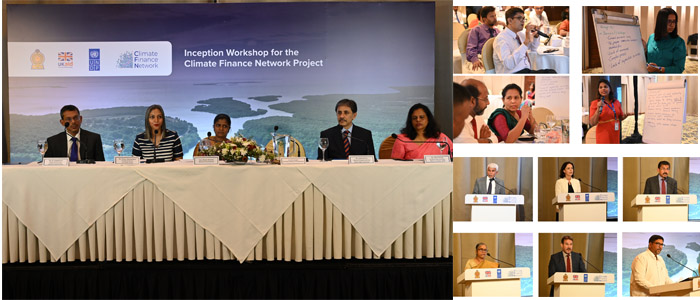 Sri Lanka is particularly susceptible to the negative impacts of climate change as a small island and developing nation. Recognising the importance of contributing towards a greener future, Sri Lanka updated its Nationally Determined Contributions (NDCs) pledging to achieve a carbon Net Zero status by 2050 and even more recently announced its Climate Prosperity Plan at the United Nations Climate Change Conference 2022 (COP27) to combat the threat of climate change.
In the aftermath of the COVID-19 pandemic, Sri Lanka has had to face unprecedented economic hardships with resources being diverted to address the immediate crisis. However, as a country dependent on natural resources for its economy and employment generation, increased climate externalities continue to impact the lives and livelihoods of the people and economy.
In line with addressing the difficulties in financing climate-related issues, the United Nations Development Programme in Sri Lanka (UNDP) has partnered with the Ministry of Environment and the Ministry of Finance to implement the Climate Finance Network (CFN) Project. The project is regionally initiated by UNDP and funded by the Foreign, Commonwealth & Development Office of the Government of the United Kingdom's Climate Action for a Resilient Asia (CARA) initiative.
Speaking at the inception workshop of the project, Hon. Mr. Naseer Ahamed, Minister of Environment noted that "According to the assessment conducted by BIOFIN, Sri Lanka may face a 1.2 per cent loss of annual GDP by 2050 if measures are not taken to address climate change. Achieving these planned targets in climate change and transitioning towards a green, inclusive and balanced economy in Sri Lanka requires large investments from the financial sector which is an opportune moment for UNDP's Climate Finance Network Project".  
 Dr. Anil Jasinghe, Secretary to the Ministry of Environment stated, "With Sri Lanka being more susceptible to climate change, in 2020, we developed the Climate Change Policy which is currently being revised. The Climate Finance Network Project will strengthen the capacity to access finance and technology, and become the overarching project on climate financing. In order to do this, we must reform our financial mechanisms. In the context of the present economic crisis, we are thankful to UNDP for its support"
The project aims to address barriers in achieving the Sustainable Development Goals (SDGs) and NDC commitments, while enabling countries to effectively mobilize, manage, utilize and track the use of public finance and climate-aligned private investments to combat climate change effectively whilst promoting gender equality, human rights and poverty reduction to contribute to the implementation of the 2030 Agenda.
Ms. Malin Herwig, Officer-in-Charge, UNDP in Sri Lanka highlighted the importance of collective action, stating, "CFN seeks to create an enabling environment to access climate finance and institute innovative and sustainable financing mechanisms that not only work towards climate resilience – but also towards balanced and inclusive green growth. Indeed, CFN brings together many sectors, tying together the economy, environment and society in the way SDGs do. Seeing and working with this interconnectedness is vital for Sri Lanka."
Speaking at the event, Mr. Andrew Price, Head of Prosperity Section, British High Commission in Sri Lanka noted, "We need to honour the pledges we made in Glasgow through the Glasgow Pact, so we can turn our struggle against climate change – there are countless recent examples that illustrate how countries are being hit hard by climate events. The children of Sri Lanka and the youth around the world deserve a greener planet and a more prosperous future.  We need to make it our mission to provide jobs for our children and deliver clean growth".
The CFN Project will be focusing on 4 areas in Sri Lanka, namely climate change-aligned budgeting and planning; direct access to international climate change finance; transparency and accountability of climate change finance; and gender and social inclusion in climate change finance.
Mr. Ruwan Wijewardene, Presidential Advisor on Climate Change emphasized that "In order to achieve the best socio-economic outcomes, we must first be climate resilient. We are committed to increasing our renewable energy production from 35% to 75% by the end of this decade, as well as studying our potential for green hydrogen. We are thankful to UNDP, the UK government, UK Aid, and the Foreign and Commonwealth Office for conducting workshops, such as this, that help us learn and understand more about climate finance."
Emphasising the importance of green financing, Ms. Gangatharan, Additional Director General (Agriculture & Environment, National Planning Department noted that, "The climate financing space affords issuers the ability to structure and negotiate products that best fit their needs. Today's workshop enables the Treasury to validate two key matters of concern in managing and ensuring effective processes – namely, the institutional framework and their structure to access climate financing initiatives."
This discussion was a stepping stone in supporting the implementation of Sri Lanka's climate commitments and building a resilient future – enabling economies, the environment and people to prosper while adapting to climate change.