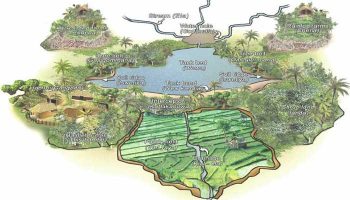 Sri Lanka is well known for its ancient hydraulic civilization dating back to 300BC, which is a complex irrigation system. King Pandukabhaya was the first to build an artificial reservoir. He built  Abhaya wewa, Gamini wewa, and Jaya wewa. King Parakramabahu's who stated  " Not a single drop of water received from rain should be allowed to escape into the sea without being utilized for human benefit" paved the way to promote construction of  more reservoirs. During his regime he built many tanks including Parakrama Samudraya, which is providing water for irrigation and many other activities including human consumption upto date. Many kings continued to build tanks which brought prosperity to the country by facilitating livelihoods of the people.
A set of connected tanks form, a Cascade Tank Village System or Ellanga System,  which is defined as a connected series of. village irrigation tanks organized within a micro-(or meso-) catcment of the dry zone landscape, storing, conveying and utilizing water from an ephemeral rivulet' (Madduma Bandara 1985)
A schematic diagram of a Tank Cascade System ( Ellanga system).
 "Ellanga Gammana" or Cascade Tank-Village system helps efficient management of water  resources flowing through a network of small to large tanks for agricultural purposes and human consumption in the dry zone.
This unique Cascade Tank-Village System  or Ellanga System has been recognized as a Globally Important Agricultural Heritage Systems" (GIAHS) by the Food and Agricultural Organization
(FAO) in 2018. The proposal of Ministry of Agriculture to include the Cascade Tank-Village System in Palugaswewa in the Anuradhapura district to the FAO list of GIAHS has been considered in this. The Palugaswewa Divisional Secretariat area consists of 12 Cascade Systems, located within the Malwathu Oya and Yan Oya river basins.
New agricultural heritage sites from China, Egypt, Japan, Republic of Korea, Mexico, Portugal, Spain and Sri Lanka were designated on 19th April 2018, where there are 50 globally recognized agricultural heritage systems in the world at present.
The objective of recognizing these sites are to protect and promote valuable agricultural heritage, which helps to preserve biodiversity, traditional knowledge, and resilient ecosystems worldwide.
The "Ellanga Gammana or the Tank Cascade System consists of four major zones, which include, (i) Tank and its elements  (ii) channels and paddy fields,( iii)  protected forest and catchment and (iv) the  households.
 The first zone consists of Sorowwa or Bisokotuwa (sluice gate; used to release and regulate water), Diyaketa pahana (water level indicator), Ralapanawa (stone liners on the bank of the reservoir to avoid erosion due to water waves), Pita wana (spills to remove excess water), Wew thaulla (upper innundation area), Diya mankada (dedicated places for bathing and , collection of drinking water, and related activities), Kattakaduwa (interceptor)
The second zone consists of Kurulu paluwa (small block of paddy dedicated to birds), Gasgommana (tree belt), Iswetiya (soil ridge), Perahana (filter), Landa (shrub lands), Chena (rainfed cultivation), Mukalana (catchment forest), Kulu wewa (silt trapping small tanks).
Godawala ( Water puddle)  is found in the third zone
 The fourth zone consists  of Gangoda(village/ households) and Thisbambe (buffer zone of the village).
Kumbuk trees are planted in ' Diyamankada", to purify the water , where water is taken for human consumption. Waw Ismatththa or the catchment area is protected and maintained with a rich forest cover to improve the ground water resources. " Kattakaduwa" helped to purify the water by reducing salinity and other impurities such as heavy metals.
The above environmental friendly cascade systems provide water during droughts, conserve the forest, keep the wild animals away from villages and secure the lives of villagers. The maintenance activities like desilting of the cascade system was  carried out by the villagers, through division of labour in the past.
It is very important that these systems are re- vitalized and restored once again to provide water for human consumption and agriculture, in order to face challengers of climate change and enrich the environment.
The Climate Resilient Integrated Water Management Project (CRIWMP) or the "Wew Gam Pubuduwa" project is implemented under the Ministry of Mahaweli Development and Environment with the support of the United Nations Development Programme (UNDP). The Agrarian Development Department, the National Community Water Supply Department, the Agriculture Department, the National Water Supply and Drainage Board and the Disaster Management Ministry are the major stakeholders involved in implementation of the projects.
Tank clusters or the cascade systems which have been selected under the CRIWMP for developed and  renovation in the Anuradhapura district are Palugaswewa, Siwalakulama, Bandara Kumbukwewa, Thuduwakkaikulam, Rathmale, Mottapeththewa, Diwulwewa, Aluth Halmillewa with 122 rural tanks affiliated to them. The number of cascade systems which come under the project is eight with 116 village tanks in the Kurunegala, Puttalam, Vavuniya and Mannar districts.
Under this programme, renovation of the cascade system of the Panduwasnuwara-West Kotakimbulagala Anicuit (Amuna), Kanuketiya Wewa, Thoranegedara Wewa, Hindagaha Wewa, Kahatawilagedara, Gonewa Wewa, Perilikadawala, Polathegedara, Gamawewa, Aluthwewa, Katukumbura, Kandewatta, Galkadulla, Karambe Wewa and Kirimetiyawa small tanks are in progress.
The Wew Gam Pubuduwa project or Climate-Resilient Integrated Water Management Project (CRIWMP) aims to develop 325 village tanks in 20 cascades in the Mee Oya, Malwathu Oya and Yan Oya river basins.
As a part of Moragahakanda-Kaluganga reservoir project in the North Western Province, 91 tanks of Ahutuwewa Divisional Secretariat, 119 tanks of Polpithigama Divisional Secretariat, 107 tanks of Mahawa Divisional Secretariat, 30 tanks of Galewela Divisional Secretariat, one tank at Palagala Divisional Secretariat and 5 tanks in Dambulla Divisional Secretariat will be developed.
The above development activities will help to ensure water security, improve agriculture and face the challengers of climate change successfully.
Sujeewa Fernando
Assistant Director
Ministry of Mahaweli Development and Enviornment