Culture & Heritage
Travel & Tour
A Training Workshop on BUDDHIST TOURISM MANAGEMENT
"Way of Middle Path with Samma Sankappa for People-Centric Sustainable Tourism Development in Sri Lanka"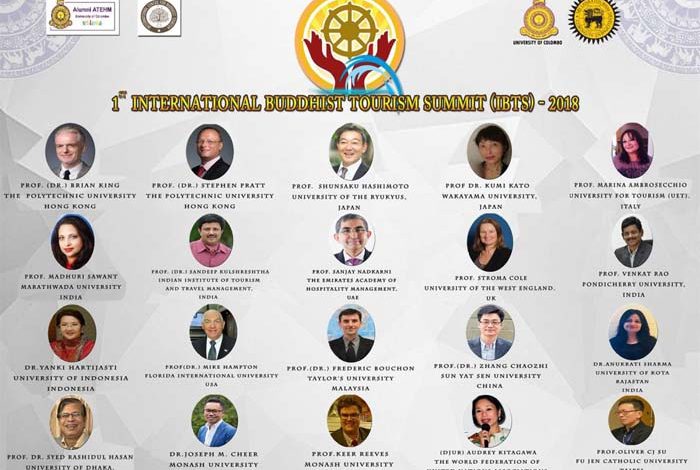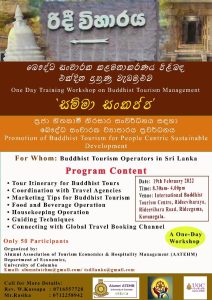 The Alumni Association of Tourism Economics and Hospitality Management (AATEHM) and the students of Tourism Study Programme, Department of Economics, University of Colombo will hold a one-day training workshop on Buddhist Tourism Management under the theme "People-Centric Sustainable Tourism through the Way of Middle Path with Samma Sankappa" at International Buddhist Tourism Centre, Ridee Viharaya in Kurunegala on February 19, 2022.
The major objective of this training workshop is to provide strategic knowledge contribution with the industry expertise to promote and develop Buddhist Tourism in Sri Lanka by using the untapped potential to make Sri Lanka as one of the best destinations in the world for not only Buddhist Tourism but also Spiritual and Religious Tourism destinations.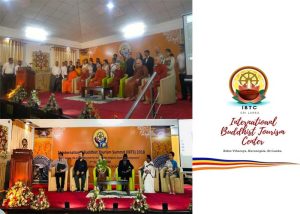 Sri Lanka has a huge potential to promote Buddhist Tourism as a major tourist attraction in religious tourism by developing different tour packages and trails for providing memorable and unique experiences for foreign and local tourists. Buddhist spiritual practices, Buddhist
pilgrimages, visiting the sacred and historic Buddhist cities, Buddhist festivals and cultural events happening in local and regional levels, Buddhist arts, crafts and architecture, Buddhist Edu-tourism and Buddhist rural and urban lifestyles are expected to be integrated for the successful promotion of Buddhist Tourism in Sri Lanka.
This program is also to provide the necessary training on Buddhist tourist communication, interpretation of ICT facilities for connecting with social & other media, global travel network and training on hospitality practices including accommodation arrangement, facility management and health and safety standards, maintaining the standard accounting report etc.
The target participants will be local community who are actively engage with promotion of Buddhist Tourism in Sri Lanka, relevant homestay operators and the other relevant service providers.
The tourism students of Postgraduates/Masters and Diploma Programmes, Department of Economics, University of Colombo are also expected to introduce several attractive destination packages for the promotion of Buddhist Tourism connecting with information of Buddhist tourist sites in Sri Lanka. These tour packages are also expected to ensure People-Centric Sustainable Development of the country through the integration of Wellness Tourism and Agritourism as well.
This First Buddhist Tourism Management Training Workshop is conducted under the blessing and valuable advice of Most Venerable Tibbatuwawe Sri Siddhartha Buddharakkitha Thera, Chief Incumbent, Ridee Vihara in Sri Lanka and the coordination of Prof. Suranga Silva, Coordinator of Tourism Study Programmes, Department of Economics, University off Colombo.