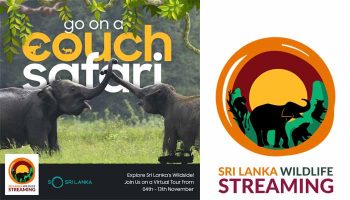 With the recent sharp decline in tourism arrivals due to the global pandemic and flight restrictions, Sri Lanka Tourism has initiated a novel approach to promote the island through a concept branded as "Go on a Couch Safari" covering wildlife streams from our most popular National Parks.
Every year, hundreds of elephants gather to the manmade reservoirs inside Minneriya and Kawudulla National Parks in the dry season, creating a breathtaking sight. Considered a most beautiful natural phenomenon in the world, this experience will be streamed through SLTPB social media sites and an affiliated website from Minneriya National Park as the first wildlife stream of the series. Minneriya is home to the first recorded twin wild elephants which has become a sensation among wildlife enthusiasts expected to draw the attention of thousands of potential wild life travelers to the country in the near future.
Yala, popular for the highest density of Leopards anywhere in the world and Udawalawa National Park are best known for terrestrial big five Elephants, Leopards, Sloth Bears, and Water Buffalos, Mugger and Saltwater crocodiles and other species such as sambars, jackals, spotted dear, peacocks that roams free in their natural habitats in the stunning backdrops of the sunset. Sunrise drives will not only capture the top five wildlife popular among wildlife enthusiasts, there will be sightings of number of migrant and water birds and several other rare and endemic flora and fauna.
Sri Lanka Tourism Promotion Bureau requests the assistance of all stake holders and citizens to join hand with them to promote this event. ''Tourism is an industry that plays a critical role for the economy of Sri Lanka. We need to be ready to bounce back quickly once time is right. We will be introducing several crowd sourcing initiatives to amplify the message. There are three ways which any one can get involved in this national promotional project. We also will be giving away holiday offers to win for overseas viewers'' Said Ms. Kimarli Fernando Chairperson Sri Lanka Tourism. This is an opportunity to showcase the amazing biodiversity of the island while maintaining the interest within the groups for Sri Lanka's Tourism.
Srilanka Tourism request the support of public and institutions by
Sharing pre-event communication material published on social media, along with flyers that would be disseminated periodically with personal and business contacts living overseas as well as on own social media channels.
Sharing the live feed on their social media channels
For more information please visit www.srilanka.travel/or official Facebook page of Sri Lanka Tourism.
Proposed transmission program will be as below.
Day 1- Minneriya, 4th November 2.00PM (IST) + 5.30 GMT
Day 2 – Minneriya, 5th November 2.00PM (IST) + 5.30 GMT
Day 3 – Kaudulla, 8th November 2.00PM (IST) + 5.30 GMT
Day 4 – Udawalawe, 9th November 7.00AM (IST) + 5.30 GMT
Day 5 – Udawalawe, 10th November 3.00PM (IST) + 5.30 GMT
Day 6 – Yala, 11th November 7.00AM (IST) + 5.30 GMT
Day 7 – Yala, 12th November 7.00AM (IST) + 5.30 GMT
Day 8 – Yala, 13th November 3.00PM (IST) + 5.30 GMT
Contact:
Public Relations Division
Sri Lanka Tourism Promotion Bureau
80, Galle Road, Colombo 03. +94 112 426 900, sureshnie@srilanka.travel