Top News
Travel & Tour
All set for the world's largest all female Adventure Challenge,'' RAID AMAZONES 2023''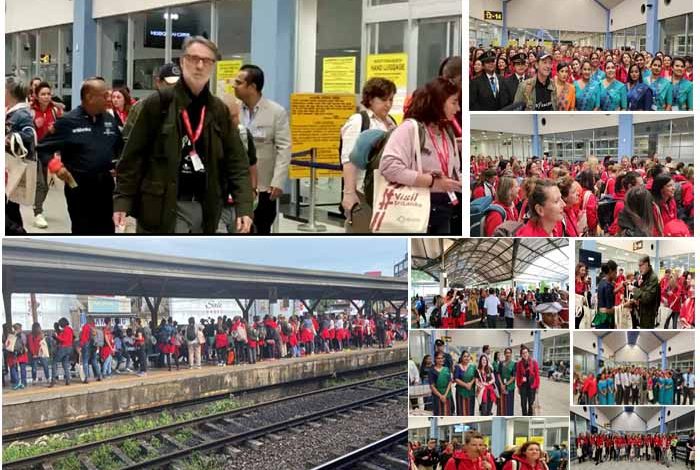 The much awaited all female adventure challenge 'Raid Amazones ''is all set to kick off in style from 20th to 28th March 2023 in Kandy and Suburbs, covering a wide range of activities in 8 days and highlighting the iconic attractions of the destination. This Internationally renowned event is being held for the 3rd consecutive year, in collaboration with Conassiance De Ceylan as the main host, Sri Lanka Tourism Promotion Bureau as the Destination partner, and Sri Lankan Airlines as the Airline partner.  A group of 250 female participants arrived in the island on the 20th of March 2023, via Sri Lankan Airlines UL 564, around 5.15 am. They were warmly welcomed by the SLTPB officials including staff of the Tourist information Centre, and officials of the SLTPB events division. Though they had just landed from a tiresome and a long journey they were highly interested in the warm hospitality which they received from the Sri Lankan people. Ms. Padma Siriwardena Managing Director SLTPB, and Mr. Prasad Daluwatte, Director Events and Mr. Masitha De Thabrew AD Events were also present at the occasion. Afterwards they proceeded to the Gampaha Railway Station to reach Kandy and they will be staying over at the Earls Regency Kandy, for the rest of their tour.
This Year's Event is scheduled to be held in Kandy, for its iconic attractions and historic value, plus with the mild climate and the scenic environment. It will be held in several stages. The participants will go through special Medical checkups, training and administration process on the 21st (Tuesday) and on 22nd Wednesday the Event will officially begin at 6.30 am with Trail Running, from Hantana to Galaha. This will be via Galaha , Peradeniya, Kandy via Lake round , then back to Earls Regency  Kandy. The afternoon activities will consist of a Cricket lesson, Cooking class, and Archery. Each afternoon will be spent according to that schedule and Thursday (23rd) will be reserved for Canoeing in the Victoria Lake, near Bambaragala Purana Rajamaha Viharaya. They will proceed with the rest of the Event on the 24th with a 18KM Bike & Run in Rideegama, and participate in an Escape game on the 25th (Saturday) in Kandy where they will look for clues and answer questions in specific locations. 26th Sunday will see a Mountain Bike ride in Pinnawala, whereas a 10KM Trail Run will be held in Kadugannawa on 27th of March, as the final activity of the event. 28th of March will finally see their departure from Kandy to BIA Colombo, to be flown home via UL 563 00H35.
Hosting an internationally renowned event like this will not only bring prestige and international fame to Sri Lanka, but also highlight Sri Lanka's unseen attractions as well as the much known iconic locations. This is another way of taking Sri Lanka to the world, and showcasing the magnificent travel opportunities it has to offer. The Raid Amazones originates from France where it is an all-female challenge who compete their way through a range of challenges such as orienteering, mountain biking, canoeing, riding, running and archery typically against the backdrop of an exotic tourist destination. Therefore, the contest not only allows participants to put their skills to test but discover the unique landscape, people and culture of a given host country. The publicity given by this whole event will create more awareness among the French Travellers as well as rest of the world, conveying the positive message that Sri Lanka is open for tourists and to experience the uniqueness of this paradise island.