Business & Finance
BOI signs agreement with HTCey Aqua Culture for Vannamei Shrimp project in Puttalam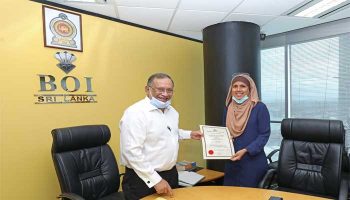 The Board of Investment of Sri Lanka has signed an agreement with HTCey Aqua Culture (Pvt) Limited for a 12 million pl (Post Larvae) capacity shrimp farm in Karikatti, Puttalam. The agreement was signed on behalf of the BOI by Mr Susantha Ratnayake, Chairman of the Board and on behalf of HTCey Aqua Culture by Mr Mansur Hassen, Managing Director and Ms Sithara Hafeel, Director.
The project, with an initial investment of USD 1.8 million envisages the conversion of an existing shrimp farm on a 16-acre land, using State-of-the-art technology in shrimp culture and management. "This includes the usage of high density circular ponds, methods for higher productivity per footprint and per cycle, efficient energy usage and responsible water management" Mr Hassen explained. "We have also secured a further 37 acres of land earmarked for the second phase of this project which will involve inland farming of Vannamei, a first of its kind in Sri Lanka" he added.
HTCey Aqua Culture, is a member of the HTCey Group, which also includes HTCey Agriculture and Livestock (another BOI approved venture) and HTCey Leisure, a local destination management company.