Travel & Tour
British journalists impressed with Sri Lanka's Unique hospitality and breathtaking tourist attractions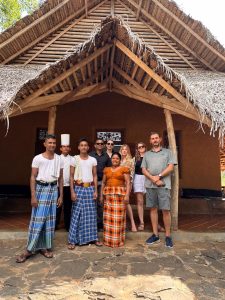 Sri Lanka Tourism collaborated with Qatar Airways to promote Sri Lanka for British Travelers for Winter 2023/24. Sri Lanka Tourism Promotion Bureau, under The Ministry of Tourism & Land joined hands with Qatar Airways- PR office for UK and Europe to invite Britain's mainstream newspapers including The Sun, The Independent, Daily Mail, Daily Mirror, Daily Express and Daily Star. These highly regarded British publications circulate among 51million readers globally including British public as well as European audiences via print & online.
This is the first time Sri Lanka Tourism collaborated with Qatar Airlines (UK & Europe) to welcome UK's most recognizable daily and weekly news publications under SLTPB's Visiting Journalists Program.
Within 7 days / 6 nights' tour, journalists were taken to taken around a tour covering Colombo, Habarana, Sigiriya, Kandy, Nuwara Eliya, Ella, Weligama, Mirissa and Balapitiya to promote Sri Lankan Heritage, Culture, Wildlife, Scenic Beauty of nature, Beaches, Unique Hotels & Resorts and tourism industry in overall.  Hospitality industry partners including Mount Lavinia Hotel, Jetwing Hotels & Resorts, Cape Weligama, The Grand Hotel- Nuwara Eliya turnup to support SLTPB on this national promotion targeting UK and Europe.
By recalling his experiences about visiting Sri Lanka, Mr. Ben Borland, Scottish Editor- Daily Express:
"This is my first visit to Sri Lanka and it is a place I've always wanted to visit, so I'm very grateful to the Sri Lanka tourism promotion bureau for the invitation.
"We've seen elephants at Minneriya national park, climbed the stunning Sigirya rock fortress and visited Glenloch tea factory and Nuriya Eliya, which was like being at home in the English Lake District!
"The food has been delicious (the fish kottu roti was my favorite), the mountain scenery and beaches are spectacular and the famous Sri Lankan hospitality has been warm and welcoming.
"We've stayed in great hotels, especially Cape Weligama , The Grand Nuwara Eliya, The Mount Lavinia Hotel and Jetwing Vil Uyana as well as  Calamansi Clove – Balapitiya.  Overall, Sri Lanka Tourism has organized a memorable experience for us along with Qatar Airways -UK Team.    
 With the visit of these top tier journalists from The UK representing mainstream weekly & weekend news publications, Sri Lanka Tourism expect to create a positive buzz within the protentional British travel seeking audiences about destination Sri Lanka as The Island to visit in 2023/2024 winter.  Another key focus of this media fam trip is to provide situational update about the island and increase overall awareness about the    tourism products available in Sri Lanka including heritage dating back to thousands of years, culture, mouthwatering local cuisines, highly rich wildlife.                                      
Ms. Kara Godfrey -Deputy Travel Editor of 'The Sun' which is UK's one of the most popular tabloids, shared her personal experiences traveling around the island. ''  I was blown away by Sri Lanka, both its hospitality and its stunning landscape. Having been to over 40 countries, the country is definitely up there for being a favorite, having experienced fantastic cuisine, beautiful hotels and unique animal experiences. I was not expecting our hike up Sigiriya to be the highlight, but the 6am start was definitely worth it for the views! ''
On behalf of Qatar Airways, Regional Manager of UK & Ireland, Mr. Gary Kershaw, stated, "Sri Lanka is an important destination within the Qatar Airways network, growing in popularity with the UK market, thanks to its vibrant culture, delicious food and inviting people. It's a popular destination for both leisure and business travelers alike, and Qatar Airways is happy to facilitate these journeys with up to five flights per day from its Doha hub, Hamad International Airport.
Qatar Airways currently flies to more than 160 destinations worldwide, connecting through its Doha hub, Hamad International Airport, voted by Skytrax as the 'World's Best Airport' in 2021 and 2022 consecutively. This year, Hamad International Airport has been ranked by Skytrax as the second-best airport in the world, and received the 'Best Airport in the Middle East' accolade for the ninth time in a row, as well as 'World's Best Airport Shopping'.
Mr. Chalaka Gajabahu- Chairman Sri Lanka Tourism Promotion Bureau stated that 'This is such a great accomplishment for us to collaborate one of the world best airlines today.   In terms of earned media related promotions, we will be planning partner with all the international airlines flying to Sri Lanka including our national flagship career Sri Lankan Airlines'. Also, SLTPB will continue to promote Sri Lanka aggressively in the UK market and visit of these mainstream British media is part of the multiple campaigns expected to be undertaken over the final quarter of 2023.