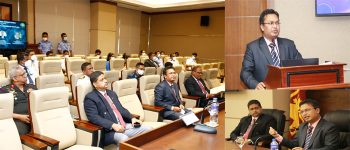 Institute of National Security Studies (INSS), the premier think tank on National Security established under the Ministry of Defence, organized a Security Salon titled "Changing Geopolitical Landscape of South Asia" on Wednesday, 30th March 2022, from 1400hrs to 1530hrs (IST) at the Suranimala Auditorium, Ministry of Defence. The Guest Speaker of the event was Dr. Pramod Jaiswal, Research Director at Nepal Institute for International Corporation and Engagement (NIICE). The Chair of the event was Chief of National Intelligence, Major General J. R. Kulathunga (Retd.) RSP ndc psc. Professor Rohan Gunaratna, Director General of Institute of National Security Studies (INSS) moderated the event. The audience comprised of representatives from ministries, Sri Lanka Tri Forces, Sri Lanka Police, intelligence services, academics and policymakers.
Dr. Pramod Jaiswal presented on the existing geopolitical strategies hidden behind the formal ties between South Asian countries. The geopolitical strategy launched by Xi-Jing-Ping in China was highlighted in his speech along with ample examples drawn from small economies in the region. Further, he elaborated the silk road initiative of China and the direct and indirect effects of collapse of one regional economy over other economies giving special reference to Russia, China and India relationships. Most importantly, he emphasized the fact that predictions of geopolitical challenges are likely to change unexpectedly and irrespective of the size and power of a country. He presented this view by drawing the attention of the audience to the World Trade Centre attack in the USA in 2001.
The insightful presentation of Dr. Pramod Jaiswal was followed by a thought-provoking Q and A session and a discussion, which brought into light the potential threats and challenges of small countries as a consequence of the geopolitical strategies employed by economically and politically powerful countries.  Subsequent to the concluding remarks by the Chair, Major General J. R. Kulathunga, Mr. Hirantha Wijesinghe, Intern (Research) at INSS, delivered the vote of thanks marking the closure of the event.