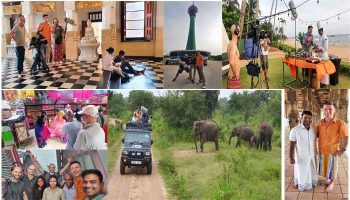 The Polish television TVN Discovery Group & National Geographic Traveler Magazine, one of the two predominant commercial TV broadcasters in Poland visited Sri Lanka on 03rd March 2022 to participate in a seven days FAM Tour around the country within the period of 03rd – 09th March 2022.
Sri Lanka Tourism Promotion Bureau (SLTPB) in collaboration with the Embassy of Sri Lanka in Poland organized this FAM Tour which covered a media promotion in which the TVN channel expected to produce their newest strands of three chapters, each documentary called "City/Region in See You" and "Good Morning TVN – TVN Discovery".
Upon the arrival of the TVN Media Crew, they met with the senior management of Sri Lanka Tourism Promotion Bureau: Director General Ms. Dammika Wijesinghe, Managing Director SLTPB Ms. Padma Siriwardana, and Director Marketing Mr. Dushan Wickramasuriya and Assistant Director (Poland Market) Mr. Masitha De Thabrew.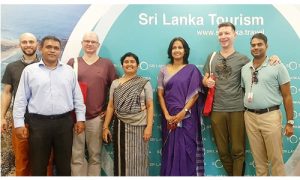 During the FAM Tour, the TVN Media Crew visited the Colombo Lotus Tower, Dambulla, Sigiriya, Eco Park, Kandy, Galle and Bentota, for filming purposes. In addition, the Media Crew covered a tea plant factory, a saree shop for documentary and they hosted a cooking demo event at the beachside of the down south.
Since the purpose of this FAM Tour was to highlight Sri Lanka as a most beautiful vacation destination, the TVN Media Crew did a great job filming each selected location around the country with assistance of sightseeing and other stakeholders to this project. Furthermore, the outcome of this FAM Tour is to promote Sri Lanka as a safe and secure beautiful travel destination among Polish travelers and thereby attracting more visitors to Sri Lanka from Poland.
The documentary of Sri Lanka will be on aired on TVN Discovery Polska in April 2022. This media promotion will provide massive opportunities to enhance the brand image of Sri Lanka along with showcasing our cultural heritage, adventure, culinary, handicraft, hospitality, transportation, recreational services and many other tourist draws in Sri Lanka Tourism.
Furthermore, Mr. Michal and Mr. Marek stated their impressions about Sri Lanka, "This is our first time to visit Sri Lanka and it's really help us. Friendly people, always smiling, always helpful
Furthermore, Mr. Michal and Mr. Marek stated their impressions about Sri Lanka, "This is our first time to visit Sri Lanka and it really helped us and a fantastic area location you have more than 20 national parks and amazing animals in these parks. And cultural vibes and we love spicy food. So this is fantastic country for everybody, for young people, older people and families with children. Surfing, hiking and everything are here. Thank you very much for inviting us and see you next time."