Travel & Tour
Vietnamese Media Personnel impressed with Sri Lankan attractions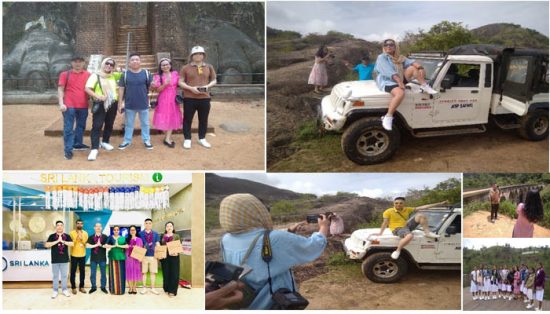 The Sri Lanka Tourism Promotion Bureau, together with the Embassy of Sri Lanka in Vietnam organized a Media Familiarization Tour for a delegation of 5 members belonging to the high level media in Vietnam, including VTV 2 TV channel, Famous blogger Trans Viet in Vietnam , and three other Media personnel . The FAM tour continued from 7th to 14 th May 2023. They were given a warm welcome by the SLTPB officials at the Bandaranaike International Airport, showcasing the warm hospitality which is truly unique to Sri Lankan nationals. They had an active itinerary ready to travel round the destination and gain a unique experience, especially it is also renowned as a 365 destination. During their tour they visited Negombo , and had an interesting experience exploring it's coastal line , Sigiriya , with it's iconic cultural heritage , Hurulu Uyana , An ideal alternative for the Wild life parks such as Minneriya during the  wet season ,and proved to be an interesting safari . They also visited Koneshwaram temple in Trincomalee , Passikudah and its sun kissed beaches , Ella and its famous Nine Arch Bridge,  Ravana Falls , Little Adams Peak Ella, Nuwara Eliya and its iconic tea Factories, tea gardens and had some experience in  tea tasting . They also had a memorable experience exploring the Sigiriya Rock Fortress and it's cultural splendor. They were very much impressed with the various travel and holiday opportunities that Sri Lanka had as a renowned travel destination and considered this as an opportunity to spread a positive message to their fellow citizens back home.
Before leaving to Colombo, they also paid a visit to the temple of the sacred tooth relic in Kandy, which filled them with awe and respect for the Sri Lankan heritage and culture. They also watched a cultural show which gave some knowledge of the cultural dances and performances which Sri Lanka had to offer. They also had a Kandy City tour, where they were able to pop into the shops on the way and check the interesting items which they had to offer. They had the opportunity of enjoying a healthy final day dinner at the Siddhalepa Ayurveda Resorts, and also experience a cooking demonstration, as well as having a stroll in the Lotus Tower area, Gangaranmaya Temple, and the Independence Square. Various Tourism stakeholders such as Jetwing Hotels, & Siddhalepa Hotels, collaborated with Sri Lanka Tourism to organize this promotion. This media crew will promote Sri Lanka as a potential tourist destination among Vietnamese tourists.
By hosting Media crews from various countries as these, more travelers will get to know the word regarding Sri Lanka from those who have visited and seen the island, experiencing its unique travel opportunities open to the world. Vietnam can be a potential Tourism market with the cultural and geographical similarities which it's sharing with the island destination.