Travel & Tour
TAAI launched its Brochure& Theme Logo in Delhi for the 66th Convention to be held in Sri Lanka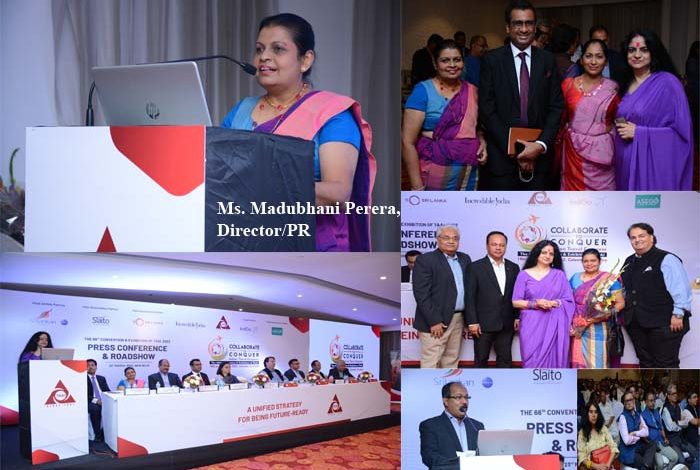 Sri Lanka Tourism Promotion Bureau continues to proceed with its destination promotion goals as they will collaborate with Travel Agents Association of India (TAAI) and Sri Lankan Association of Inbound Tour Operators (SLAITO), to hold its 66th Convention and Exhibition at Colombo, Sri Lanka from April 19 – 22, 2022.This occasion was ultimately a result of a discussion taken between the two major institutions in order to promote regional tourism between the two countries which share similar geographical and historical features.
TAAI also unveiled its Convention Brochure and Theme Logofor its 66th Convention and Exhibition at a Press Conference and Road-Show at Hotel – The Park, New Delhi, on the 23rd of March 2022. The occasion was held under the patronage of Ms. JyotiMayal, President TAAI, and other distinguished guests at the Head Table includedMs. Rupinder Brar Addl Director General, Ministry of Tourism, Government of India, Mr. Niluka Kadurugamuwa, Deputy High Commissioner of Sri Lanka, Mr.. Jay Bhatia, Vice President/TAAI, Mr. ThilakWeerasinghe, President/SLAITO , Ms. Madubhani Perera ,Director Public Relations, Sri Lanka Tourism Promotion Bureau, Mr. Ravindran Veeraperumal, Regional Manager – India & Bangladesh – SriLankan Airlines, Mr. Bettaiah Lokesh, Hon. Secretary General.
The dignitaries expressed their views on how this collaboration might become useful in the long run, Ms. Jyoti Mayal, President TAAI, expressed her opinion as such. "I am truly delighted for receiving such an overwhelming response from the industry ever since we have announced the Convention in Sri Lanka. In the present scenario, there is an immediate need to build on our regional strengths and to explore more opportunities for growth in travel and tourism. The theme of the Convention 'Collaborate to Conquer', will focus to promote and establish travel and tourism between the two nations of Sri Lanka and India. SLTPB being the Main Sponsor for the 3day event in Sri Lanka, is looking forward to showcase their products and services to the Indian stakeholder partners, who shall boost bi-lateral Tourism into and from Sri Lanka. '' She mentioned in her speech.
Ms. Rupinder Brar ,Addl DG, Ministry of Tourism, Government of India said that "It's a fantastic initiative and we look forward to encourage regional tourism because of the kind of  shared cultures our countries have and also the cordial and amazing relationships that India has had with its neighbors to leverage on that and build on regional tourism.  "
Mr. NilukaKadurugamuwa , Deputy High Commissioner for Sri Lanka in India stated "Sri Lanka has always been one of the favorite destinations for Indians and now with the international skies opening up, it is an ideal destination for hosting the convention. Sri Lanka's close proximity to India along with its focus on boosting regional tourism, strengthening bilateral relations and developing trade, investments and tourism makes it an important market for our country"
Sri Lanka Tourism Chairperson, Kimarli Fernando in a statement has mentioned that "It is a pleasure to partner with TAAI to host its 66th Convention and Exhibition in Sri Lanka. India being one of the main source markets for Sri Lanka, TAAI Convention is a great opportunity to promote tourism experiences of Sri Lanka to the Indian market in a post pandemic environment with many airlines operating to major tourist generating cities in India. Sri Lanka Tourism believes that the industry stakeholders will take the maximum exposure by engaging with the Indian travel trade during the upcoming TAAI convention."
Mr. Thiak Weerasinghe, President/SLAITO said "TAAI's decision to hold its Convention in Sri Lanka itself is a great achievement at this need of the hour . As a neighboring country, India Tourism has helped us a lot and we should strengthen this relation further between the two countries."
Ms. Madubhani Perera, Director/PR made a detailed destination presentation at the event and mentioned that Sri Lanka Tourism will be focusing on niche segments like destination weddings, film tourism, Spiritual Tourism, etc. to attract more Indian travelers. She further mentioned that Cordelia cruises will be operating four weekly sailings between Chennai and Colombo from June this year and said that the TAAI Convention in Colombo will help in projecting Sri Lanka as a preferred outbound destination for Indian travelers.
"With the global aviation and economies opening up for tourism, especially in the light of commercial flights restarting from March 27, there is no better time than now to hold this Convention. We – the travel trade of India, can reiterate with confidence to the traveler by ourselves travelling overseas with renewed vigor. '' said Jay Bhatia, Vice President, TAAI.
Mr. RavindranVeeraperumal, Regional Manager – India & Bangladesh – SriLankan Airlines,explained its  airline's operations and its expansion plans for the future. The airline is also the official airline sponsor for the 66th Convention & Exhibition of TAAI in Colombo this year.
The event concluded with a special speech from Bettaiah Lokesh, Hon. Secretary General, TAAI,who stressed on the importance of Strengthening Tourism opportunities between Sri Lanka and India as neighboring countries .''The convention will provide a wonderful opportunity for our delegates to experience the serene beauty of this unique island country. '' He stated. Apart from that depiction, Sri Lanka will be the most suitable place for Indian tourists since both countries have similar cultural, historical and geographical backgrounds. Sri Lanka hasalways been a home away from home for the Indian travelers, which is one of the key reasons for the tourist arrivals from India to increase. Thus this collaboration will be another milestone for Sri Lanka as it continues to navigate successfully towards its destination promotion goals.
The Event was attended by over 200 Indian travel fraternity representing 20 Regional Chapters of TAAI and Media personnel. There was a networking session held between the delegation from Sri Lanka and TAAI members at the end of the Press conference. Ms. Shirani Herath, Junior Manager handling Indian Market at  SLTPB attended the networking session along with Sri Lanka Trade delegation comprised of  Mr. Thilak Weerasinghe ( LSR ) Mr. Darshana Cabraal ( Tour Blue ) , Mr. Senaka Weerasinghe ( Esna Holidays) , Mr. Mahinda Deshapria ( Ayubowan Tours & Travels ) and Mr. Anjalo Bernard ( Jetwing Travels )