News
Chief of Joint Staff: Pakistan Army pledges fullest support to SL military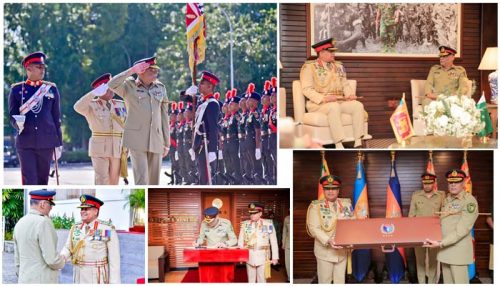 Chairman Joint Chiefs of Staff Committee of Pakistan General Sahir Shamshad Mirza, NI (M) pledged his fullest support to the Sri Lankan armed forces on 9 Feb, 2023.
General Mirza also discussed the importance of further enhancing of defence related ties through military diplomacy during a meeting held with the Sri Lankan Chief of Defence Staff General Shavendra Silva at the Office of the Chief of Defence Staff (OCDS) in Colombo.
Visiting Pakistani General was accorded a colourful guard of honour in keeping with the military traditions and he was warmly received by General Silva at the OCDS.
Following a discussion on the serviceability of the Sri Lankan military aircraft, he pledged the  fullest support of the government of Pakistan to strengthen the air facility.
Recalling the long rejoiced bilateral ties between the two countries, both defence high officials had a cordial discussion of mutual relevance during the session.
General Silva was grateful to his visiting counterpart for the extensive availability of training avenues and facilities for the Sri Lankan military officers in Pakistan and also went on mentioning the further strengthening of ties through military exercises.
Viabilities of shipbuilding and other similar facilities were also included in the areas of concern during the fruitful bilateral discussion.
Meanwhile, Sri Lanka Chief of Defence Staff conveyed his condolences to his counterpart on the demise of former President, the Pakistani General Pervez Musharraf.
Ensuing the meeting, mementoes were also exchanged between the two officials to mark the occasion.