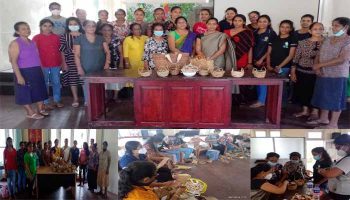 The EDB's effort in developing and promoting export potential Women Entrepreneurs took a new turn when it established the "EDB Women Entrepreneur Cell" in 2017, with the main objective of linking women and their associated businesses to commercially viable opportunities and value chains across the world, enabling economic and community development.
After opening the "EDB Women Entrepreneur Cell", EDB implemented a number of programmes to uplift the standards of these women entrepreneurs. EDB has already conducted a series of capacity building, product development and market development programmes such as awareness on business plan preparation, export packaging & labeling, pricing, export marketing, export procedure etc. for export potential women entrepreneurs in order to build these entrepreneurs to play a significant role in the country's economy. Continuing its work, EDB organized a two-day training and buyer link-up programme for women entrepreneurs engaged in the giftware and lifestyle product sector in Panadura. The targeted women entrepreneur group was identified by the Export Development Officer attached to Pandadura Divisional Secretariat. Panadura is an area where many women entrepreneurs are engaged in production of giftware & lifestyle products but lack the market connectivity to supply their products.
The product development programme was conducted by SAP Kultura (Pvt) Ltd. who participated in the Training/ Exposure visit/ B2B meetings and product display at Manila FAME 2019 exhibition in October 2019 organized by EDB under the New Exporters Development Programme. SAP Kultura is planning to purchase products such as flowers, baskets, bags – made out of corn husk leaves, water hyacinth (ජපන් ජබර), banana fibre-ropes, etc. manufactured by the group for her next export order to the USA.