Business & Finance
Leading German importer urges Sri Lankan agri-product exporters to practice superior packaging to capture European markets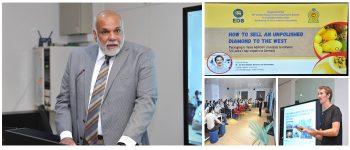 Jan Paul Bethke, a leading German importer of Sri Lankan fruits and tea, urged Sri Lankan agri-product exporters to practice effective and superior packaging if they are to be successful in terms of capturing markets in Europe. "If you package your product well, include a QR code (incorporating extensive details such as the farmer who grew products), and convey a personalised story, customers in advanced markets such as Germany and Europe would develop an affinity with your products", Bethke noted. He made these remarks at a forum organised by the Sri Lanka Export Development Board (EDB) on packaging and value addition strategies to enhance Sri Lanka's agri-product exports to Germany on 12th January, 2022.
Bethke is co-founder of Lemonaid Beverages GmbH, Germany – a social business engaged in food and beverages based on Fair trade principles – and his company purchases a substantial amount of organic fruit and tea from Sri Lanka. Bethke has a longstanding association with Sri Lanka, having done his A/Levels and worked for a German-based development agency in the island during late 1990s.
According to him, developing a unique sustainable brand, changing with the evolving market trends, and approaching the correct customer base are critical to achieve success in the international marketplace. Bethke observed that Sri Lankan exporters have not even come close to where they could be given the enormous size of the German market and concluded that he loves the island very much and happy to offer help anytime.
Joining the forum via Zoom, Buddika Wimalasena – Second Secretary at the Embassy of Sri Lanka in Berlin – stated that Germany is an important market for Sri Lanka's exports within Europe and thanked the EDB for organising a forum for Sri Lanka's exporters with a leading German importer.
Addressing the event, EDB Chairman Suresh de Mel remarked that packaging and value addition are quite important to create value and find niche market opportunities in the international marketplace for Sri Lankan products.
"The post-Covid world has created more opportunities for us to promote natural products such as spices, fruits and vegetables, and herbal products. We have to work to cater to new market opportunities. As a country, we have to ensure that Sri Lanka exports high-quality products to the international market to maintain its reputation as well as achieve a competitive edge and increase its market share. " EDB Chief added. The forum was concluded with the Vote of Thanks address by EDB Additional Director General (Development) – Malani Baddegamage.
The event was organised to create awareness among exporters about European market entry requirements and to help connect with top importers in Germany. The participants of the forum joined the event both physically as well as online due to COVID protocols, and it was attended by EDB Director General Chitranjali Dissanayake, as well as senior EDB officials while the representatives from Sri Lanka's embassy in Berlin joined the discussion via Zoom.