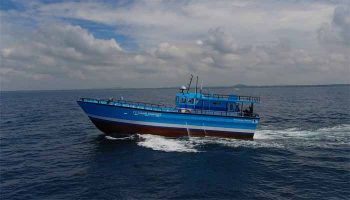 Being one of the largest exporters in the Boat & Ship Building industry in Sri Lanka, Dhanusha Marine Lanka Exports (Private) Limited has proudly contributed to Sri Lanka's exports, generating foreign exchange over 1 million USD per annum over the past few years while creating more than 150 employment opportunities.
The fourth boat building factory of Dhanusha Marine located at Payagala, opened in September 2020. This Rs.300 million investment hopes to manufacture 17m to 24m fishing and multipurpose vessels for the local as well as international markets and also create more than 100 new employment opportunities. Dhanusha Marine multiday fishing vessels consists of a communication and navigational equipment, refrigerator system, generator, chilled bath and bait hold to maintain the quality of fish obtained which will allow the fishermen to sell their quality fish harvest to local and international markets.
The first 20-meter multi-day fishing vessel 'FV OCEAN HARVEST,' was built at the yard for Ocean Harvest Ltd in Mauritius and it successfully sailed to Mauritius in January after overcoming a vast number of difficulties that came along the way. Many infrastructural obstacles such as the narrow by-road leading to the factory and road way across the railway track and transportation to the Beruwala fishing harbor for launching were dealt with and overcome in launching this vessel.
Kalutara District being the main district to accommodate the most number of boat manufacturers in Sri Lanka lacks a launching pad for the launching of the boats to the sea bed at the Beruwala harbor. Currently, many boat manufacturers face difficulties in terms of risk of life and limb, incurring of extra costs and delays to the vessels that are being launched. Amidst all such obstacles, Dhanusha Marine Lanka Exports (Private) Limited successfully handed over its first 20-meter multiday fishing vessel to the Mauritius customer. Throughout its journey, Export Development Board, Board of Investment, Ministry of Fisheries and Aquatic resources, Ministry of Ports & Shipping and National Chamber of Exporters have lent the company immense support by providing with assistance for exhibitions and organizing business delegations with the aim of expanding the industry. The boat manufacturing industry has been recognized as a growing industry that could significantly contribute towards the export revenue and employment of the country.