Business & Finance
Edb conducts coaching programme to enable smes access export market under new exporter development programme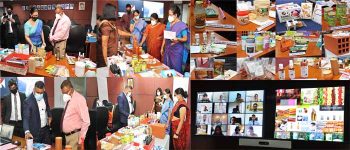 The Sri Lanka Export Development Board (EDB) – Regional Development division implemented an Export Coaching Programme as a pilot project for twenty-five (25) selected, export potential SMEs that are registered under the EDB – New Exporter Development Programme and assist them to develop capacities to enter the export market.
The programme consisted of 3 phases and in the first phase, the companies were evaluated by an interview panel comprising of EDB officers, and the 25 most suitable SMEs for the coaching programme were selected from 70 applications received. In the second phase, individual coaching sessions on Export Marketing Planning were conducted by a selected team of EDB officers who were trained by the International Trade Centre (ITC) in 2019/2020 as Export Marketing Planning (EMP) coachers.  During these sessions, SMEs were guided by the EDB officers to develop their Export Marketing plans and the SMEs were appraised of export audit, exploring opportunities in the export market, and strategic decision making on export market-entry options. Later, export marketing plans and action plans were developed by each individual company by their own through the guidance of EDB officers and submitted to the EDB during the 2nd phase and feedback was provided to improve their plans.
As the final phase, a market-pitching programme was held on 10th December virtually (due to COVID-19 health guidelines) where the selected SMEs presented their export marketing plans with details of their funding requirements to obtain the services that are identified as key to expand their business internationally such as Market Intelligence, Product Development, Quality improvement, Capacity Development, Packaging, and Marketing and Branding to an external evaluation panel. The panel was represented by Dr. Dayaratna Silva, National Expert – International Trade Center, Professor B. Nishantha, Faculty of Management & Finance – University of Colombo & Mr. Nuwan Gamage, Senior Vice President – Sri Lanka Institute of Marketing.
Accordingly Export Marketing Plans presented by Unicorn Tyre Retreads Pvt Ltd, Kandrick Tea Beverages Lanka Pvt Ltd, Nature's Wellness Pvt Ltd Ceylon Dhee Ayurveda Pvt Ltd, Gamma Chemicals, Hela Coco Energy Pvt Ltd, Healthy Foods Lanka Pvt Ltd, Kadadasi, Liven, Nature Wins Pvt Ltd, Navigata Foods Pvt Ltd, Pranaya & Tilma Lanka Pvt Ltd were selected as the Best Export Marketing Plans at the market-pitching programme held at the EDB on 10th December 2021.
It has been observed that a large number of Sri Lankan SMEs are offering unique products to the international market but do not get adequate attention from the buyers due to lack of proper Export Marketing Planning for targeting and positioning products in niche  markets. Therefore, it has become a priority of the EDB to recognize the export-ready SMEs, guide them to develop their export marketing plans and assist them to develop capacities and competencies to promote products in potential markets to attract international buyers. EDB plans to continue this programme in order to provide opportunities to more SMEs to enter the export market which is much needed at this time to bring more foreign exchange to the country.